Mechanical Engineering
Risk Management
Computer Science
Transdisciplinary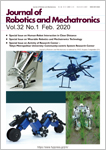 Journal of Robotics and Mechatronics
ISSN :
0915-3942(Print) / 1883-8049(Online)
DOI :
10.20965/jrm.issn.1883-8049
Editors-in-Chief :
Yoshihiro Takita (National Defence Academy of Japan)
Deputy Editor-in-Chief :
Koichi Osuka (Osaka University),
Takayuki Tanaka (Hokkaido University)
Indexed in ESCI, Scopus, Compendex (Ei)


---
2016-06-16T23:09:49+0000
Vol.28 (2016)
No.3
Special Issue on Autonomous Flying Robot
Special Issue on Autonomous Flying Robot
Editorial:

doi: 10.20965/jrm.2016.p0261

pp. 261
Autonomous Flying Robot
Shoichiro Fujisawa, Kenzo Nonami, Masafumi Miwa, Satoshi Suzuki, and Kakuya Iwata

  Research on unmanned aerial vehicles (UAVs) has been conducted for quite some time, even though experiments were rather difficult to carry out. However, recent years have seen a proliferation of published reports in this field. This is most likely due to the spread of multicopters, which are easier and safer to operate than fixed-wing aircraft and single-rotor helicopters.   Other factors that have made it easier to conduct research on UAVs and thus contributed to the increased number of studies include the wide availability of high-performance flight controllers that are either low cost or offered on an open-source basis, such as ArduPilot and MultiWii.   Although this has minimized technological hurdles in conducting research, it has become more difficult to conduct research safely in a social and legal context. Prompted by a 2015 drone incident, Japan's civil aeronautics law was revised to control UAV flights under stricter regulations. Even so, these regulations are still considered less restrictive than those in most other countries.   UAV research includes obvious risks and dangers of operating airborne devices, but also makes it more interesting as a scientific inquiry, generates high expectations about practical utility, and makes a highly significant area of investigation.   Placing a high priority on safety will hopefully lead to further research in this area.   This special issue covers the latest in UAV research, including

  • UAV control system design,
  • Studies on flight characteristics of aircraft equipped with special mechanisms,
  • UAV applications,
  • Studies on operational UAVs.

  Readers will find it interesting and rewarding to explore the latest UAV research trends presented in this issue.
Regular Papers
No.2
Special Issue on Construction and Built Environment
Special Issue on Construction and Built Environment
Editorial:

doi: 10.20965/jrm.2016.p0115

pp. 115
Construction and Built Environment
Thomas Bock and Tetsuji Yoshida

  The construction industry is one of the largest economicalsectors in developed countries. The economical contributionof the construction industry is comparable withthe contribution of the manufacturing industry. However,the construction industry is one of the most unfamiliar areasof R&D in the robotics community. The first ideasfor construction robots appeared in the 1970s in Japan.Due to quality problems of construction works, lack ofskilled labor, low productivity, numerous accidents andfatalities and high construction demand, the first prototypesof construction robots were developed towards theend of the 1970s. Since then more than 200 constructionrobots and service robots for buildings have been developed,but only about 10% of them have been successfullyintroduced to the construction market. The developmentof on-site robots in the 1980s peaked with the developmentof integrated automated building construction sitesin the 1990s. In the beginning of the 21st century humanoidrobots were researched and tested. In the futurewe will see robots that care for the elderly and handicappedas a further development of construction robots.
  This issue gives an overview on the state of art ofrobotic technologies in construction. The introductoryarticle also relates the construction robotics developmentto the industrial robotics technology in the prefabricationsector of the 1970s, gives examples of various constructionrobotics developments of the 1980s, the integratedautomated building construction sites since the 1990s, andthe humanoid construction robotics developments and integratedindustrialization efforts of recent date. Roboticsubtechnologies such as programming, sensors, kinematics,teleoperation, navigation, human-robot interaction arepresented to the reader. During the last years much efforthas been devoted to the application of robots and roboticstechnology in construction works. Most of them are forout-door application, where the tasks are developed incomplex unstructured environments and under hazardousconditions. The construction robots introduced during thelast years have dramatically improved labor conditions,productivity and quality levels, and also have increasedthe safety conditions for operators. The nowadays constructionrobotics technology tries to take advantage ofthe last developments for control, navigation, localization,human-machine interface or sensor use. Howeverrobotics in construction is still a very challenging topic inorder to clarify many unsolved R&D issues.
  The purpose of this special issue is to provide a reviewof open issues and new developments in robotics inconstruction, ranging from major construction engineeringprojects to residential building construction:

  • Robotics for building construction.
  • Robotics for civil engineering: roads, bridges, earthmoving, etc.
  • Inspection, maintenance and infrastructures robots.
  • Navigation, mapping and localization of robots inconstruction environments.
  • Technology components for construction robots: 3Dsensors, end-effectors, HMI, control strategies, cooperation,safety, etc.
Regular Papers
Reviews on Research and Development of Functional Fluid Mechatronics, Rehabilitation Systems, and Mechatronics of Flexible Drive Systems
Regular Papers
Grand Robots Museum