Journals
Mechanical Engineering
Risk Management
Computer Science
Archives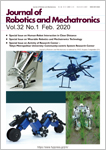 Journal of Robotics and Mechatronics
ISSN :
0915-3942(Print) / 1883-8049(Online)
DOI :
10.20965/jrm.issn.1883-8049
Editors-in-Chief :
Koichi Osuka (Osaka University)
Deputy Editors-in-Chief :
Takayuki Tanaka (Hokkaido University)
Akio Namiki (Chiba University)
Indexed in ESCI, Scopus, Compendex (Ei), DOAJ


---
2023-05-19T16:08:22+0000
Vol.35 (2023)
No.2
(Apr)
Special Issue on Navigation and Control Technologies for Autonomous Mobility
Special Issue on Navigation and Control Technologies for Autonomous Mobility
Editorial:
pp. 229-230
Navigation and Control Technologies for Autonomous Mobility
Yuki Minami, Hiroshi Okajima, Kenji Sawada, and Kazuma Sekiguchi

Autonomous mobility, as exemplified by self-driving cars, autonomous mobile robots, drones, etc., is essential to the acceleration and practical application of transportation services and the automation of delivery, guidance, security, and inspection. Therefore, in recent years, expectations have been building for autonomous mobility to grow as a technology that not only improves the convenience and comfort of transportation and the efficiency of logistics but also leads to solutions to various social problems. Various technological elements are required to ensure the safety and quality of autonomous mobility. For example, technology is needed to create environmental maps and automatically determine obstacles based on data acquired by cameras and sensors such as LiDAR. Technologies for planning appropriate routes and controlling robots safely and comfortably are also essential.

This special issue highlights 24 exciting papers, including 20 research papers, three letters, and one development report. They are related to "recognition," "decision and planning," and "control" technologies for autonomous mobile robots, such as self-driving cars and drones. The papers' keywords are as follows:

• Collision avoidance, path planning, path tracking control

• Motion control, attitude control

• Measurement, position and posture estimation, modeling

• Point cloud processing

We would like to express our gratitude to all authors and reviewers, and we hope that this special issue contributes to future research and development in autonomous mobility.
Regular Papers
No.1
(Feb)
Congratulations! JRM Best Paper Award 2022
Special Issue on Developments and Learning from the World Robot Challenge
Congratulations! JRM Best Paper Award 2022
Award:
pp. 1-2
Congratulations! Journal of Robotics and Mechatronics Best Paper Award 2022
Editorial Office

We are pleased to announce that the 15th Journal of Robotics and Mechatronics Best Paper Award (JRM Best Paper Award 2022) has been decided by the JRM editorial committee.

The following paper won the JRM Best Paper Award 2022, severely selected from among all 123 papers published in Vol.33 (2021). The Best Paper Award ceremony was held on December 23, 2022 in hybrid style (both on-site and online; venue: Gakushi-Kaikan, Tokyo, Japan), attended by the authors and JRM editorial committee members who took part in the selection process. The award winners were given certificates and a nearly US$1,000 honorarium. Editorial committee members who participated online also congratulated them through Zoom.

We congratulate the winners and sincerely wish them success in the future.

JRM Best Paper Award 2022

Title: 300-N Class Convex-Based Telescopic Manipulator and Trial for 3-DOF Parallel Mechanism Robot

Authors: Takashi Kei Saito, Kento Onodera, Riku Seino,
Takashi Okawa, and Yasushi Saito

J. Robot. Mechatron., Vol.33, No.1, pp. 141-150, February 2021
Special Issue on Developments and Learning from the World Robot Challenge
Editorial:
p. 7
Developments and Learning from the World Robot Challenge
Gentiane Venture

The World Robot Challenge was organized to stimulate and gather findings in robotics and their applications to three important fields: Industrial Robotics, Service Robotics, and Disaster Robotics, which constituted three categories for the competition. Researchers and professionals from all over the world in the field of robotics were provided a unique opportunity to showcase their work by solving unprecedented problems, on the spot. Computer vision, robust control, navigation, and manipulation are some of the key elements to create robots that could solve the challenges proposed during the competition.

This special issue provides some examples of the work developed and performed in that aim, that could serve for the future of robotics applications in the three designated fields but not only.

The three first papers are the results of the convenience store challenge for Service Robotics. In this challenge, identifying objects and pose estimation of object are crucial for the acquisition of knowledge and robot manipulation, shelfing and logistics, as detailed in the first two papers. Robot's navigation is also paramount for cleaning and operating in the human environment, such is the topic of the third paper.

The Industrial Robotics challenge focuses on parts pick and place and assembly of complex elements. The fourth and 5th papers of this special issue deal with this topic.

Finally the Disaster Robotics challenge presents the more versatile components as a disaster area may be of multiform and of very complex nature, depending of the nature of the disaster, whether it is indoor or outdoor etc. The last three papers of the special issue deal with such a various nature for plant inspection, for the control of robots in disaster area, or the rescue robot in confined spaces such as tunnels.

We hope this collection of work carefully selected, will provide the reader with insights for the future developments of robots.
Paper:
pp. 51-64
Development of a Flexible Assembly System for the World Robot Summit 2020 Assembly Challenge
Lizhou Xu, Farshad Nozad Heravi, Marcel Gabriel Lahoud, Gabriele Marchello, Mariapaola D'Imperio, Syed Haider Jawad Abidi, Mohammad Farajtabar, Michele Martini, Silvio Cocuzza, Massimiliano Scaccia, and Ferdinando Cannella
Development Report:
pp. 65-73
Development of Automatic Inspection Systems for WRS2020 Plant Disaster Prevention Challenge Using Image Processing
Yuya Shimizu, Tetsushi Kamegawa, Yongdong Wang, Hajime Tamura, Taiga Teshima, Sota Nakano, Yuki Tada, Daiki Nakano, Yuichi Sasaki, Taiga Sekito, Keisuke Utsumi, Rai Nagao, and Mizuki Semba
Development Report:
pp. 85-98
Disaster Rescue via Multi-Robot Collaboration: Development, Control, and Deployment
Yutaka Watanobe, Raihan Kabir, Ryuma Aoba, Ayato Ohashi, Shunsuke Ogata, Mizuki Shiga, Kota Tsuruno, Tsuyoshi Anazawa, and Keitaro Naruse
Regular Papers