Mechanical Engineering
Risk Management
Computer Science
Archives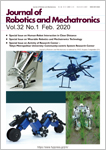 Journal of Robotics and Mechatronics
ISSN :
0915-3942(Print) / 1883-8049(Online)
DOI :
10.20965/jrm.issn.1883-8049
Editors-in-Chief :
Yoshihiro Takita (National Defence Academy of Japan)
Deputy Editor-in-Chief :
Koichi Osuka (Osaka University),
Takayuki Tanaka (Hokkaido University)
Indexed in ESCI, Scopus, Compendex (Ei)


---
2018-10-19T19:25:10+0000
Vol.9 (1997)
No.6
(Dec)
Special Issue on Emerging Technology in Manufacturing
Special Issue on Emerging Technology in Manufacturing
Editorial:
p. 419
Emerging Technology in Manufacturing
Yoshimi Takeuchi

Manufacturing yields value from worthlessness. Thus, in recent years, manufacturing technologies have been undergoing rapid change in order to produce products of high quality, at a low cost and with short lead times. Improvements and innovations, with regard to manufacturing technologies, range from the fundamentals to large-scale systems. Therefore, the guest editor would like to introduce the new manufacturing technology, together with the latest research results. One of the most recent key technologies is the so-called rapid-prototyping technology. It shortens the development period of new products from the design stage. Many rapid-prototyping technologies are being developed concurrently. In this issue, the state of the art is explained clearly by an expert in the field. For mechanical products, manufacturing capabilities are highly dependent upon machine tools. In this issue, there is a research paper concerned with a design method for multi-purpose machine tools that can fabricate a variety of products. Machining efficiency is strongly influenced by the positioning accuracy and feed velocity of the axis movement of the machine tools. A control algorithm that can achieve high speed and accuracy is proposed in a paper in this issue. In order to make the most of NC machine tools, it is essential to provide NC data rapidly However, it is difficult to generate NC data, especially for multi-axis control machine tools capable of machining workpieces with complicated shapes. The development of 6-axis control CAM software for creating sculpted surfaces is reviewed in the issue. Another paper deals with NC data generation for sculpted surface processing using virtual reality. In FA systems, the nature of the programming/execution environment is shifting from a concentrated one to a distributed one, and a worker-friendly manufacturing environment is required for the workers. Two papers are presented for realizing such environments. Recently, ultra-precision machining and micro-machining technologies have been attracting great interest as a result of their ability to produce micro-mechanisms and micro-robots. One paper describes production of a prototypical tiny part with a sculpted surface using an ultra-precision milling machine. Another is related to simulation of an atomic level cutting mechanism that applies molecular dynamics. Manufacturing technology is making tremendous progress, and is putting promising new technologies into use toward the goal of realizing intelligent manufacturing systems, IMS. The guest editor heartily hopes that this issue aids in comprehension of the emerging technology in the manufacturing field.
Regular Papers
Editorial:
p. 317
Honda's Humanoid Leads A New Robotic Century
Takayuki Tanaka

The Honda Humanoid announced in the Nikkei Newspaper December 20, 1996, impressed down not only our generation of the famous animation named "Gundom," but also professors as a great impulse. I had, through talks with colleagues, assumed that this type of human robot would be realized far in the future. I was given an opportunity to see the real product at a workshop sponsored by the International Robot and Factory Automation Association in February 1997. Representative researchers and students came to this workshop with high expectations and excitement. The Honda Humanoid was presented by Hiroyuki Yoshino, vice president of Honda Motor Co. Ltd. The real product was not exhibited at the workshop but presented through video films. However, it was worthy of being called a "fantastic" humanoid. The Humanoid caused viewers to imagine that it was created part of mankind in the real world. It had lived only in the animation or imaginary world. I was really amazed at the shocking behavior of the Humanoid. This is reality! The Humanoid walks on flat floors, on stairs, and on irregular surface smoothly just like a person. It also changes direction freely. If it is pushed from the front, it moves one leg backward to resist the force applied. It walks dynamically like a person wearing space gear. I got gooseflesh. During a break, I found some people mortified at being "beaten" in the creation of a biped walking robot and also those who were excited by the development. The Honda Humanoid will open a new century of robots, and shows the value of taking up a pioneering challenge. I congratulate the Honda development team and its great achievement!
No.4
(Aug)
Special Issue on Robot with Integrated Locomotion and Manipulation
Special Issue on Robot with Integrated Locomotion and Manipulation
Editorial:
p. 247
Robot with Integrated Locomotion and Manipulation
Kan Taguchi

Recently, demand has risen for outdoor robots in architecture, civil engineering, agriculture, fire fighting, or restorations of earthquake disasters. For such cases, robots should have both locomotion and manipulation to work in unknown and unassisted fields. Since robot locomotion and manipulation have been researched independently, robots with integrated locomotion and manipulation are anticipated. However, problems involve the cooperative control of locomotor and manipulators or their integrated mechanisms. In January 1994, the Robotics Society of Japan set up an integrated locomotion and manipulation robot research committee whose aim is identify different aspects of such robots, such as analysis and synthesis of mechanisms, control theory for integrated locomotion and manipulation, and actual on-job applications. The Committee includes researchers from industry, government laboratories, and academia, who have discussed the possibilities of new type robots. The Committee organized sessions such as "Robots with Integrated Locomotion and Manipulations" in the 12th (1994) to 14th (1996) annual conferences of the Robotics Society of Japan and "Integrated Locomotion & Manipulation" in International Robotics Symposium IROS96. A special issue of "Integrated Locomotion and Manipulation" for the Journal of the Robotics Society of Japan was compiled and published in November 1995 by the Committee. In November 1996, the Committee handed in its final report to the Society and adjourned. The final report is in Japanese. As a Committee member, I have wanted to introduce some of the Final Report in English. Fortunately, the editors of the Journal of Robotics and Mechatronics have given me the opportunity to publish these reports in a special issue. Other Committee members have agreed to contribute as well. I thank the Committee — especially Chairman Dr. Tatsuo Arai (MEL), who encouraged me in writing this article. Special thanks go to Prof. Yamafuji, who introduced me to the editors who gave me the chance to publish this article.