Toward a Prosperous Future Where Humans and Robots Cooperate
Masayo Iwai*, Masaki Haruna** , and Tamio Tanikawa***
*HCMI Consortium, National Institute of Advanced Industrial Science and Technology (AIST)
2-3-26 Aomi, Koto-ku, Tokyo 135-0064, Japan

**Mitsubishi Electric Corporation Advanced Technology R&D Center
8-1-1 Tsukaguchi-Honmachi, Amagasaki City, Hyogo 661-8661, Japan

***National Institute of Advanced Industrial Science and Technology (AIST)
2-3-26 Aomi, Koto-ku, Tokyo 135-0064, Japan

Received:
March 17, 2023
Accepted:
April 8, 2023
Published:
June 20, 2023
Keywords:
human-centric robotics, human-robot collaborative system, remote collaborative system, QoW
Abstract
Based on the roadmap formulated by "Consortium for Human-Centric Manufacturing Innovation" (here-in after referred to as HCMI Consortium) of National Institute of Advanced Industrial Science and Technology, an industry-academia-government collaborative platform launched on April 10, 2019, this paper introduces initiatives and future prospects for human-centric robotics that collaborate with humans and human-in-the-loop cyber-physical system to support future industrial infrastructure for a sustainable and prosperous society. In particular, in cooperation with humans, it is important to understand the behavior of workers. For this purpose, it is important to have a fundamental technology that can represent models of human in cyber-physical systems and simulate the relationship between human and machines. Based on this fundamental technology, we are proceeding with demonstrations in various use cases.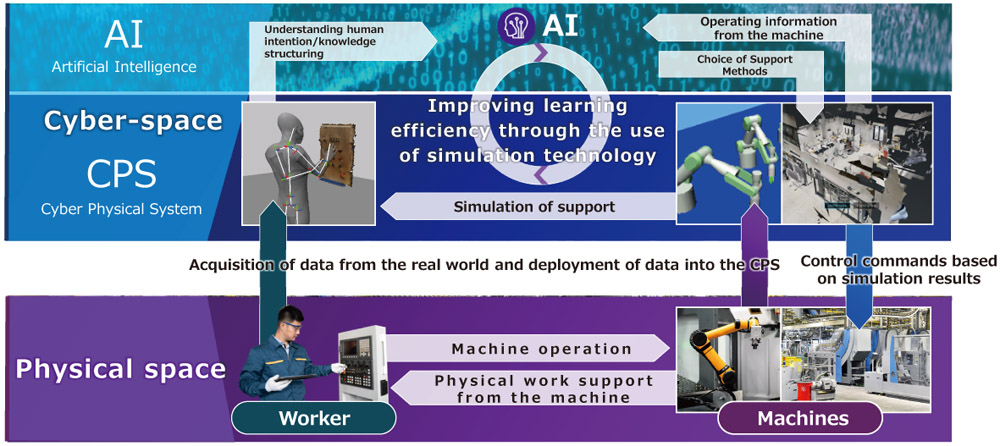 Cite this article as:
M. Iwai, M. Haruna, and T. Tanikawa, "Toward a Prosperous Future Where Humans and Robots Cooperate," J. Robot. Mechatron., Vol.35 No.3, pp. 533-546, 2023.
Data files:
References
[1] M. Haruna, M. Ogino, and T. Koike-Akino, "Proposal and Evaluation of Visual Haptics for Manipulation of Remote Machine System," Front. Robot. AI, Vol.7, Article No.529040, 2020. https://doi.org/10.3389/frobt.2020.529040
[2] M. Haruna, N. Kawaguchi, M. Ogino, and T. Koike-Akino, "Comparison of Three Feedback Modalities for Haptics Sensation in Remote Machine Manipulation," IEEE Robot. Autom. Lett., Vol.6, Issue 3, pp. 5040-5047, 2021. https://doi.org/10.1109/LRA.2021.3070301
[3] S. Otsubo, Y. Takahashi, and M. Haruna, "Modular neural network for learning visual features, routes, and operation through human driving data toward automatic driving system," J. Adv. Comput. Intell. Intell. Informatics, Vol.24, No.3, pp. 368-376, 2020. https://doi.org/10.20965/jaciii.2020.p0368
[4] "Development of Remote Machine System with Sense of Oneness," ADVANCE Magazine, Mitsubishi Electric Corp., December 2021.
This article is published under a Creative Commons Attribution-NoDerivatives 4.0 Internationa License.