Development of Flexion Posture Formation Mechanism in Wearable Type of Flexor Tendon Rehabilitation Equipment
Takeshi Ikeda*1, Yuki Matsutani*2, Masanori Sato*3, Seiji Furuno*4, and Fusaomi Nagata*1
*1Sanyo-Onoda City University
1-1-1 Daigaku-dori, Sanyo-onoda, Yamaguchi 756-0884, Japan

*2Kindai University
1 Takaya-umenobe, Higashi-hiroshima, Hiroshima 739-2116, Japan

*3Nagasaki Institute of Applied Science
536 Aba-machi, Nagasaki, Nagasaki 851-0193, Japan

*4National Institute of Technology, Kitakyushu College
5-20-1 Shii, Kokuraminami-ku, Kitakyushu, Fukuoka 802-0985, Japan

Received:
December 1, 2022
Accepted:
April 14, 2023
Published:
June 20, 2023
Keywords:
flexor tendon, rehabilitation brace, mechanism, wearable device, flexion posture
Abstract
Rehabilitation robots and rehabilitation braces are in demand, as they aid in reducing a patient's need for therapist's attendance and guidance during therapy. This study focuses on the bending of fingers under the tension of the fingertips using clinical equipment and demonstrates the development of a small and versatile rehabilitation brace.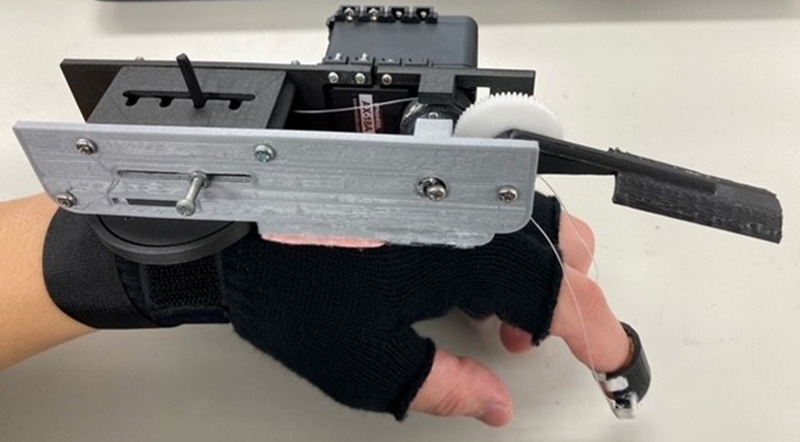 Cite this article as:
T. Ikeda, Y. Matsutani, M. Sato, S. Furuno, and F. Nagata, "Development of Flexion Posture Formation Mechanism in Wearable Type of Flexor Tendon Rehabilitation Equipment," J. Robot. Mechatron., Vol.35 No.3, pp. 577-585, 2023.
Data files:
References
[1] M. Sakai, S. Maki, and M. Yamamoto, "Research and Development of Rehabilitation Robot," AITEC Research Report 2010, pp. 2-5, 2010 (in Japanese).
[2] H. Kawasaki, S. Ito, Y. Ishigure, Y. Nishimoto, T. Aoki, M. Abe, H. Sakaeda, T. Ojika, T. Mouri, and S. Ueki, "Hand Rehabilitation Assist Robot Designed with Assistance for Thumb Opposability," Trans. of the Japan Society of Mechanical Engineers, Series C, Vol.74, No.748, pp. 3019-3027, 2008 (in Japanese).
[3] I. Sarakoglou, N. G. Tsagarakis, and D. G. Caldwell, "Occupational and Physical Therapy Using a Hand Exoskeleton Based Exerciser," Proc. of 2004 IEEE/RSJ Int. Conf. on Intelligent Robotics and Systems, Vol.3, pp. 2973-2978, 2004.
[4] A. Wege and G. Hommel, "Development and Control of a Hand Exoskeleton for Rehabilitation of Hand Injuries," Proc. of 2005 IEEE/RSJ Int. Conf. on Intelligent Robots and Systems, pp. 3461-3466, 2005.
[5] K. Hongo, Y. Nakanishi, M. Yoshida, I. Mizuuchi, and M. Inaba, "Development of Bilateral Wearable Device Kento for Control Robots Using Muscle-Actuator Modules," J. Robot. Mechatron., Vol.22, No.3, pp. 308-314, 2010.
[6] Y. Li, Y. Gong, J.-R. Zhuang, J. Yang, K. Osawa, K. Nakagawa, H. Lee, L. Yuge, and E. Tanaka, "Development of Automatic Controlled Walking Assistive Device Based on Fatigue and Emotion Detection," J. Robot. Mechatron., Vol.34, No.6, pp. 1383-1397, 2022.
[7] K. Nishizawa, T. Tsumugiwa, and R. Yokogawa, "Gait Rehabilitation and Locomotion Support System Using a Distributed Controlled Robot System," J. Robot. Mechatron., Vol.34, No.1, pp. 72-85, 2022.
[8] Q. An, Y. Ishikawa, W. Wen, S. Ishiguro, K. Ohata, H. Yamakawa, Y. Tamura, A. Yamashita, and H. Asama, "Skill Abstraction of Physical Therapists in Hemiplegia Patient Rehabilitation Using a Walking Assist Robot," Int. J. Automation Technol., Vol.13, No.2, pp. 271-278, 2019.
[9] M. Kashima, H. Arakawa, S. Kimura, R. Nishihama, K. Yokoyama, I. Kikutani, and T. Nakamura, "Development of Assist Suit for Squat Lifting Support Considering Gait and Quantitative Evaluation by Three-Dimensional Motion Analysis," J. Robot. Mechatron., Vol.32, No.1, pp. 209-219, 2020.
[10] A. Akagi, S. Tsuichihara, S. Kosugi, and H. Takemura, "Development of a Rehabilitation and Training Device Considering the Ankle Degree of Freedom," J. Robot. Mechatron., Vol.32, No.3, pp. 673-682, 2020.
[11] M. Tagami, M. Hasegawa, W. Tanahara, and Y. Tagawa, "Prototype of a Continuous Passive Motion Device for the Knee Joint with a Function of Active Exercise," J. Robot. Mechatron., Vol.34, No.1, pp. 28-39, 2022.
[12] T. Tamamoto, K. Koyanagi, Y. Kimura, M. Koyanagi, A. Inoue, T. Murabayashi, T. Oshima, T. Tsukagoshi, and K. Noda, "Mechanism and Effect of Tread Swing for Lower Limbs Strength Training Device," J. Robot. Mechatron., Vol.34, No.1, pp. 101-110, 2022.
[13] Y. Yamada, H. Arakawa, T. Watanabe, S. Fukuyama, R. Nishihama, I. Kikutani, and T. Nakamura, "TasKi: Overhead Work Assistance Device with Passive Gravity Compensation Mechanism," J. Robot. Mechatron., Vol.32, No.1, pp. 138-148, 2020.
[14] T. Kosaki and S. Li, "A Water-Hydraulic Upper-Limb Assistive Exoskeleton System with Displacement Estimation," J. Robot. Mechatron., Vol.32, No.1, pp. 149-156, 2020.
[15] H. Kozuka, D. Uchijima, and H. Tachiya, "Motion-Assist Arm with a Passive Joint for an Upper Limb," J. Robot. Mechatron., Vol.32, No.1, pp. 183-198, 2020.
[16] M. A. Jacobs and N. M. Austin (Eds.), "Splinting the Hand and Upper Extremity: Principles and Process," pp. 367-370, Lippincott Williams & Wilkins, 2002.
[17] A. Ke, J. Huang, and J. He, "An Underactuated Prosthetic Hand with Coupled Metacarpophalangeal Joints," J. Adv. Comput. Intell. Intell. Inform., Vol.22, No.5, pp. 674-682, 2018.
[18] W. Chen, G. Li, N. Li, W. Wang, P. Yu, R. Wang, X. Xue, X. Zhao, and L. Liu, "Soft Exoskeleton with Fully Actuated Thumb Movements for Grasping Assistance," IEEE Trans. on Robotics, Vol.38, No.4, pp. 2194-2207, 2022.
[19] Y. Han, Q. Xu, and F. Wu, "Design of Wearable Hand Rehabilitation Glove with Bionic Fiber-Reinforced Actuator," IEEE J. of Translational Engineering in Health and Medicine, Vol.10, Article No.2100610, 2022.
[20] Y. Matui, D. Hosomi, and M. Takaiwa, "Development of Finger-Wrist Rehabilitation Device Using Pneumatically Driven Parallel Sticks," J. Robot. Mechatron., Vol.32, No.5, pp. 1044-1051, 2020.
[21] T. Mouri, H. Kawasaki, Y. Nishimoto, T. Aoki, Y. Ishigure, and M. Tanahashi, "Robot Hand Imitating Disabled Person for Education/Training of Rehabilitation," J. Robot. Mechatron., Vol.20, No.2, pp. 280-288, 2008.
[22] S. Koizumi, T.-H. Chang, H. Nabae, G. Endo, K. Suzumori, M. Mita, K. Saito, K. Hatakeyama, S. Chida, and Y. Shimada, "Prototype of Hand Rehabilitation Glove with Thin McKibben Muscles," The Proc. of the 2019 JSME Annual Conf. on Robotics and Mechatronics, Article No.1P1-A08, 2019 (in Japanese).
[23] P. Polygerinos, Z. Wang, K. C. Galloway, R. J. Wood, and C. J. Walsh, "Soft Robotic Glove for Combined Assistance and At-Home Rehabilitation," Robotics and Autonomous Systems, Vol.73, pp. 135-143, 2015.
[24] K. Sakai, K. Doi, T. Toyoumi, S. Sumiura, T. Tominaga, and S. Kawai, "Primary Suture for Flexor Tendon Rupture in Zone II," Orthopedics & Traumatology, Vol.35, No.3, pp. 954-957, 1987 (in Japanese).
This article is published under a Creative Commons Attribution-NoDerivatives 4.0 Internationa License.