Verification and Evaluation of Robotic Inspection of the Inside of Culvert Pipes
Hiroyasu Miura*, Ayaka Watanabe**, Masayuki Okugawa**, and Takahiko Miura***
*Disaster Prevention Research Center, Aichi Institute of Technology
1247 Yachigusa, Yakusa-cho, Toyota-shi, Aichi 470-0392, Japan

**Department of Mechanical Engineering, Faculty of Engineering, Aichi Institute of Technology
1247 Yachigusa, Yakusa-cho, Toyota-shi, Aichi 470-0392, Japan

***Department of Solution, Sanritz Automation Co., Ltd.
7-47-1 Kotobuki-cho, Toyota-shi, Aichi 471-0834, Japan

Received:
May 20, 2019
Accepted:
September 21, 2019
Published:
December 20, 2019
Keywords:
culvert pipe, inspection, field experiment report, robotic inspection system
Abstract
Public infrastructures, such as tunnels and bridges, are important for our daily life and their increased deterioration causes concern. Culvert pipes are installed underground below roads, and their damage has an impact on the function and integrity of infrastructures. However, culvert pipes in closed and confined spaces are difficult to inspect, and their conditions are generally not evaluated. In this paper, we describe the findings of field experiments involving the inspection of the inside of culvert pipes via robotic systems.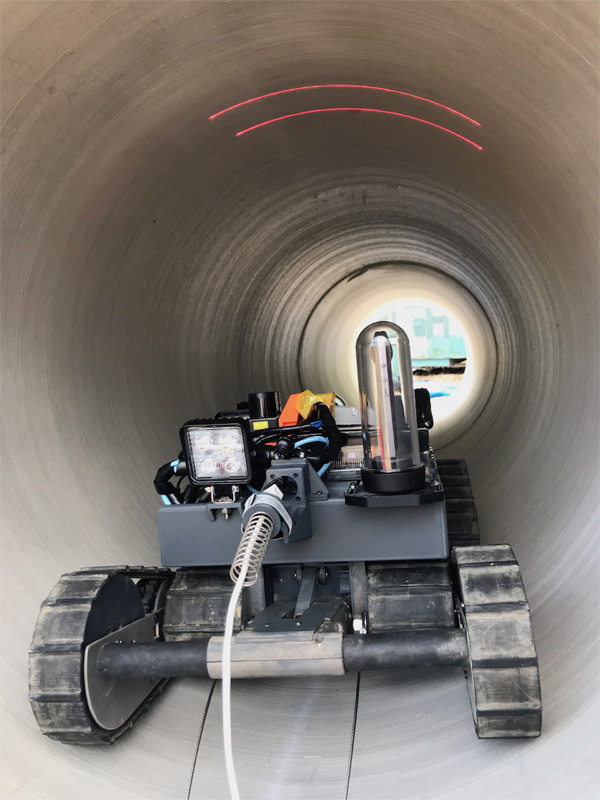 Cite this article as:
H. Miura, A. Watanabe, M. Okugawa, and T. Miura, "Verification and Evaluation of Robotic Inspection of the Inside of Culvert Pipes," J. Robot. Mechatron., Vol.31 No.6, pp. 794-802, 2019.
Data files:
References
[1] P. Choate and S. Walter, "America in Ruins: The Decaying Infrastructure," Duke University Press, 1983.
[2] H. Ikeda et al., "Investigation Results by Subsurface Cavity Exploration Vehicles," Monthly Report of the Research Institute for Civil Engineering, No.552, pp. 61-64, 1999 (in Japanese).
[3] N. E. Serrano, "Autonomous Quadrotor Unmanned Aerial Vehicle for Culvert Inspection," Massachusetts Institute of Technology Libraries, 2011.
[4] H. A. Kadir et al., "Monocular Visual Odometry for In-Pipe Inspection Robot," Jurnal Teknologi (Sciences & Engineering), Vol.74, No.9, pp. 35-40, 2015.
[5] L. Liu, "A Smart Tunnel Inspection Robot for the Detection of Pipe Culverts," Applied Mechanics and Materials, Vol.614, pp. 184-187, 2014.
[6] H. Miura et al., "Field Experiment Report for Tunnel Disaster by Investigation System with Multiple Robots," Proc. of the 14th IEEE Int. Symp. on Safety, Security, and Rescue Robotics (SSRR), WeA3T.4, pp.276-277, Lausanne, Switzerland, October 23-27, 2016.
[7] H. Miura et al., "Field Experiment Report for Verification of Abandoned Lignite Mines by Robotic Exploration System," J. Robot. Mechatron., Vol.30, No.6, pp. 1004-1013, doi: https://doi.org/10.20965/jrm.2018.p1004, 2018.
[8] S. Suzuki et al., "Remote Control System of Disaster Response Robot with Passive Sub-Crawlers Considering Falling Down Avoidance," ROBOMECH J., Vol.1, No.1, 20, 2014.
[9] S. Kohlbrecher et al., "A Flexible and Scalable SLAM System with Full 3D Motion Estimation," Proc. of the 9th IEEE Int. Symp. on Safety Security, and Rescue Robotics (SSRR), pp. 155-160, Kyoto, Japan, November 1-5, 2011.
This article is published under a Creative Commons Attribution-NoDerivatives 4.0 Internationa License.