ACDR: Autonomous-Car Drive Recorder
Zhi Wang*, Daishi Watabe*, Hideyasu Sai*, Yukimichi Saito**, and Masayoshi Wada***
*Saitama Institute of Technology
1690 Fusaiji, Fukaya, Saitama 369-0293, Japan

**Mikuni Life&Auto
456-1 Maguchi, Kazo, Saitama 349-1145, Japan

***Tokyo University of Agriculture and Technology
2-24-16 Naka, Koganei, Tokyo 184-8588, Japan

Received:
December 20, 2019
Accepted:
March 23, 2020
Published:
June 20, 2020
Keywords:
autonomous car, drive recorder, traffic accident
Abstract
Herein, a drive recorder system for autonomous cars that can be used to analyze accidents that occur during autonomous driving is proposed. In many field operational tests of autonomous cars, vehicle speed, steering angle, and camera data are recorded in the log file. Only relying on these log files without simultaneously monitoring the operator or driver's actions results in much information being lost that can be used for accident investigation. To solve this problem, an autonomous-car drive recorder that can respond appropriately when accidents occur and minimize the possibility of accidents is proposed. In the system, during an accident, the environment detected around the vehicle and the actions of the driver and operator are recorded, and the data are used to troubleshoot the accident occurrence.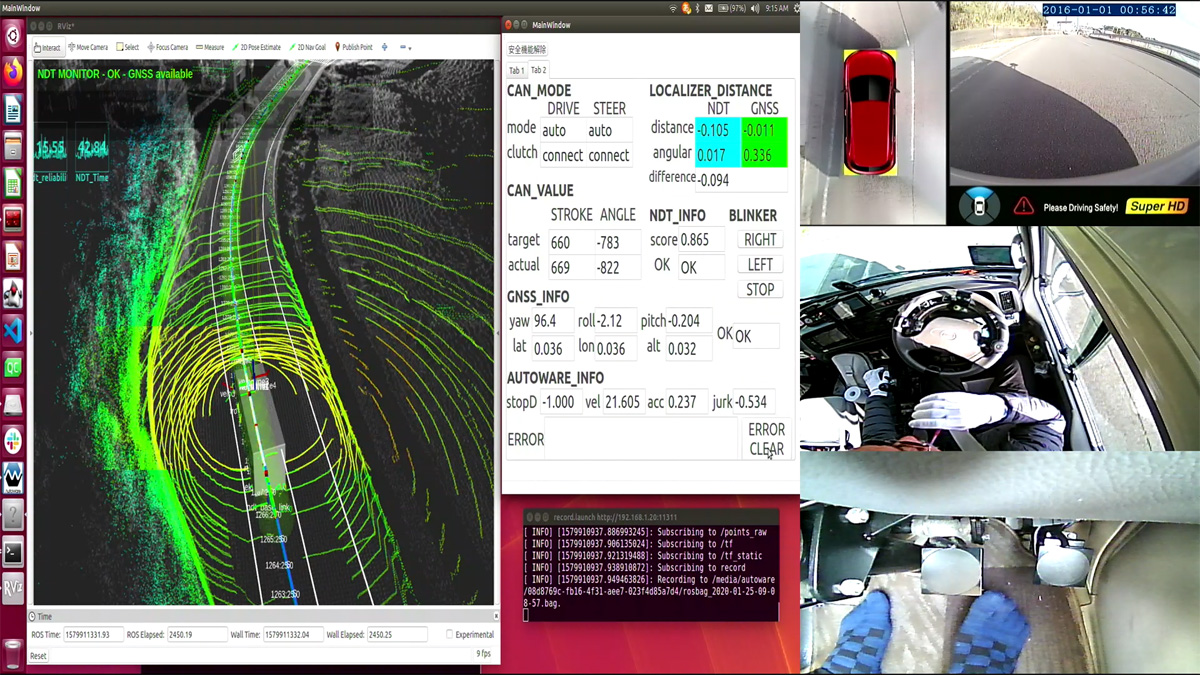 Cite this article as:
Z. Wang, D. Watabe, H. Sai, Y. Saito, and M. Wada, "ACDR: Autonomous-Car Drive Recorder," J. Robot. Mechatron., Vol.32 No.3, pp. 634-637, 2020.
Data files:
References
[1] S. Horino et al., "Accident/near accident analysis and preventive safety of taxi applying an image-recording-type drive recorder," Proc. of the Annual Meeting of Japan Ergonomics Society, pp. 276-277, doi: 10.14874/jergo.45spl.0.276.0, 2009.
[2] R. Matsumi, P. Raksincharoensak, and M. Nagai, "Study on Autonomous Intelligent Drive System Based on Potential Field with Hazard Anticipation," J. Robot. Mechatron., Vol.27, No.1, pp. 5-11, 2015.
[3] A. Pérez, M. I. García, M. Nieto, J. L. Pedraza, S. Rodríguez, and J. Zamorano, "Argos: An Advanced In-Vehicle Data Recorder on a Massively Sensorized Vehicle for Car Driver Behavior Experimentation," IEEE Trans. on Intelligent Transportation Systems, Vol.11, No.2, pp. 463-473, June 2010.
[4] O. Musicant, T. Lotan, and T. Toledo, "Safety correlation and implications of in-vehicle data recorder on driver behavior," Proc. of Transportation Research Board 86th Annual Meeting, 07-2173, 2007.
[5] V. K. Veitas and S. Delaere, "In-vehicle data recording, storage and access management in autonomous vehicles," arXiv:1806.03243, 2018.
[6] S.-Y. Chen, "Vehicle event data recorder and anti-theft alarm system with 360 degree panograph function," U.S. Patent Application, No.13/351, 628, 2013.
This article is published under a Creative Commons Attribution-NoDerivatives 4.0 Internationa License.