Three-Dimensional Ion Polymer–Metal Composite Soft Robots
Tetsuya Horiuchi*, Hiroyuki Nabae**, and Koichi Suzumori**
*National Institute of Advanced Industrial Science and Technology
1-8-31 Midorigaoka, Ikeda, Osaka 563-8577, Japan

**Tokyo Institute of Technology
2-12-1 Ookayama, Megro-ku, Tokyo 152-8552, Japan

Received:
September 20, 2021
Accepted:
November 10, 2021
Published:
April 20, 2022
Keywords:
3D shape, carbon nanotubes, electrodes, ion polymer–metal composite actuators, soft robots
Abstract
This study aims to develop three-dimensional soft robots for special situations that cannot be easily resolved by normal hard-metal robots. We use an ion polymer–metal composite actuator, which is a soft actuator, moved using 1–10 V. The objective of our study is twofold: first, to develop a method to create 3D soft robots; and second, to develop a novel material to increase the performance of soft robots. The actuator fabricated using the proposed material exhibits a performance 113% higher than that of conventional actuators.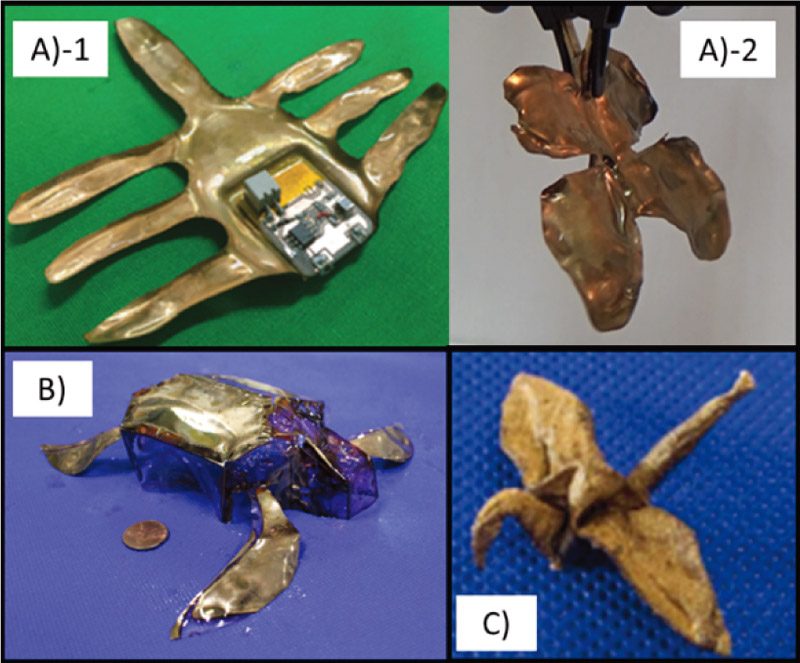 Cite this article as:
T. Horiuchi, H. Nabae, and K. Suzumori, "Three-Dimensional Ion Polymer–Metal Composite Soft Robots," J. Robot. Mechatron., Vol.34 No.2, pp. 231-233, 2022.
Data files:
References
[1] A. Kodaira, K. Asaka, T. Horiuchi, G. Endo, H. Nabae, and K. Suzumori, "IPMC monolithic thin film robots fabricated through a multi-layer casting process," IEEE Robot. Autom. Lett., Vol.4, No.2, pp. 1335-1342, 2019.
[2] A. Ishiki, H. Nabae, A. Kodaira, and K. Suzumori, "PF-IPMC: Paper/fabric assisted IPMC actuators for 3D crafts," IEEE Robot. Autom. Lett., Vol.5, No.3, pp. 4035-4041, 2020.
This article is published under a Creative Commons Attribution-NoDerivatives 4.0 Internationa License.