Zombification of Insects as a Model for Searching the Source of Various Behaviors of Living Organisms
Koichi Osuka
Department of Mechanical Engineering, Osaka University
2-1 Yamadaoka, Suita, Osaka 565-0871, Japan

Received:
September 19, 2019
Accepted:
September 22, 2019
Published:
October 20, 2019
Keywords:
zombification, implicit control
Abstract
The adaptive behavior of living creatures is considered to be generated by interactions between the brain, body, and environment. However, to better understand this essence, it is important to study the minimalistic set of interactions between the brain, body, and environment and to extract the underlying control mechanism. Therefore, in this research, we propose a novel methodology for observing the behavior by stepwise inhibition (zombification) of the upper brain functions of living organisms.*
* This article is a translation from the article: K. Osuka, "Source of Various Behaviors of Living Things that Understands from Zombification of Insects," The 8th Conf. of Transdisciplinary Federation of Science and Technology, D-2-1, 2017 (in Japanese).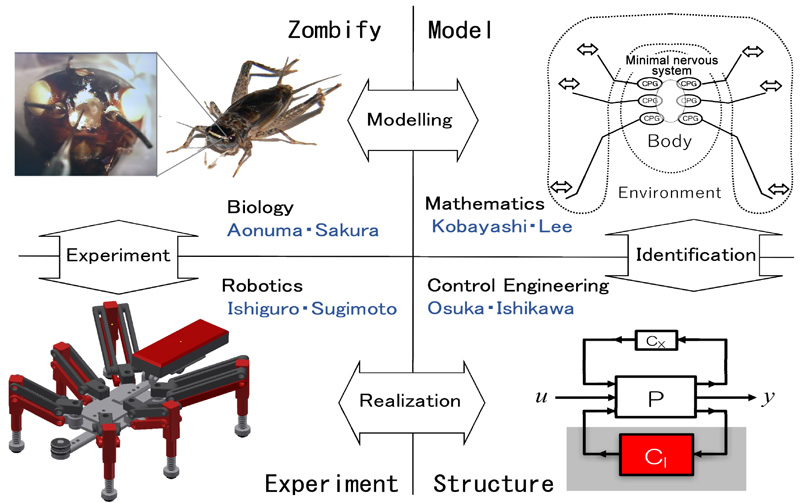 Cite this article as:
K. Osuka, "Zombification of Insects as a Model for Searching the Source of Various Behaviors of Living Organisms," J. Robot. Mechatron., Vol.31 No.5, pp. 720-722, 2019.
Data files:
References
[1] K. Osuka, A. Ishiguro, X.-Z. Zheng, Y. Sugimoto, and D. Owaki, "Implicit Control Law Embedded in Control System Solves Problem of Adaptive Function!?," J. of the Robotics Society of Japan, Vol.28, No.4, pp. 491-502, 2010.
[2] D. Owaki, T. Kano, K. Nagasawa, A. Tero, and A. Ishiguro, "Simple Robot Suggests Physical Interlimb Communication Is Essential for Quadruped Walking," J. of The Royal Society Interface, doi: 10.1098/rsif.2012.0669, 2012.
[3] R. Pfeifer and C. Scheier, "Understanding Intelligence," MIT Press, 1999.
[4] R. A. Brooks, "Flesh and Machines: How Robots Will Change Us," Pantheon Books, 2002.
[5] F. Libersat et. al., "Manipulation of Host Behavior by Parasitic Insects and Insect Parasites," Annual Review of Entomology, Vol.54, pp. 189-207, 2009.
This article is published under a Creative Commons Attribution-NoDerivatives 4.0 Internationa License.