Evolution and Evaluation of Safety Offered by Active Safety, ADAS, and AD Systems
Masao Nagai* and Hidehisa Yoshida**
*Japan Automobile Research Institute (JARI)
Jidosha Kaikan, 1-1-30 Shiba Daimon, Minato-ku, Tokyo 105-0012, Japan

**National Defense Academy of Japan
1-10-20 Hashirimizu, Yokosuka, Kanagawa 239-8686, Japan
Received:
February 13, 2020
Accepted:
March 18, 2020
Published:
June 20, 2020
Keywords:
ASV Project, SIP, traffic accident reduction prediction simulation, SAKURA Project, naturalistic driving near-crash data base
Abstract
This paper details the evolution of automotive safety technology over the years and the technical efforts in Japan that helped in foreseeing the development of safety technology and automated driving technology in the future.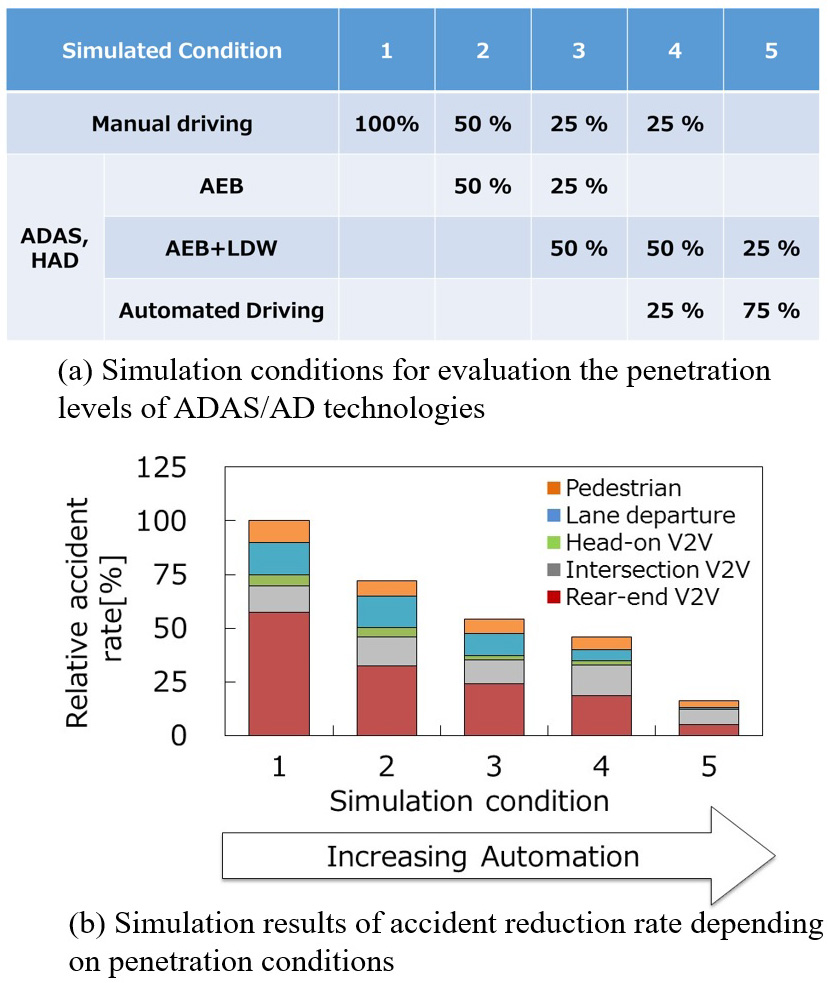 Cite this article as:
M. Nagai and H. Yoshida, "Evolution and Evaluation of Safety Offered by Active Safety, ADAS, and AD Systems," J. Robot. Mechatron., Vol.32 No.3, pp. 484-493, 2020.
Data files:
References
[1] H. Yoshida et al., "Toward next active safety technology of intelligent vehicle," J. Robot. Mechatron., Vol.27, No.6, pp. 610-615, 2015.
[2] S. Kitajima et al., "Multi-agent traffic simulations to estimate the impact of automated technologies on safety," J. Traffic Injury Prevention, Vol.20, No.S1, pp. 558-564, 2019.
This article is published under a Creative Commons Attribution-NoDerivatives 4.0 Internationa License.