Journals
Mechanical Engineering
Risk Management
Computer Science
Archives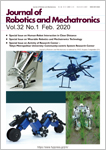 Journal of Robotics and Mechatronics
ISSN :
0915-3942(Print) / 1883-8049(Online)
DOI :
10.20965/jrm.issn.1883-8049
Editors-in-Chief :
Koichi Osuka (Osaka University)
Deputy Editors-in-Chief :
Takayuki Tanaka (Hokkaido University)
Akio Namiki (Chiba University)
Indexed in ESCI, Scopus, Compendex (Ei), DOAJ
Journal Impact Factor: 1.1 (2022)


---
2023-11-19T15:02:32+0000
Vol.31 (2019)
No.6
(Dec)
Special Issue on Infrastructure Maintenance and Inspection Robotics
Special Issue on Infrastructure Maintenance and Inspection Robotics
Editorial:
p. 743
Infrastructure Maintenance and Inspection Robotics
Koichi Osuka and Shin'ichi Yuta

It is a well-known fact that Japan saw an annual average economic growth rate of over 10% from around 1955 to around 1973, its so-called "high-economic-growth period." Japan's rate was two to four times higher than that of Europe or the United States. During this period, Japan's infrastructure (roads, bridges, tunnels, etc.) was rapidly developed nationwide, bringing Japan's national average road pavement ratio in 2017 to over 80%, one of the highest rates in the world. Such rapid infrastructure development has made all of Japan a comfortable place to live. However, as Japan's infrastructure is now becoming increasingly deteriorated, the structures nationwide must be inspected for soundness and should be repaired or rebuilt if any defects are found. As these structures are highly developed, the number of structures to be inspected becomes so numerous that the human-based inspection cannot keep up.

This situation has led to growing calls for artifact inspection systems that carry out inspection work more efficiently, and the Cross-ministerial Strategic Innovation Promotion Program (SIP) was established, one of which is "Infrastructure Maintenance, Renovation and Management," with Yozo Fujino as Program Director (SIP Infrastructure), having been implemented for five years since fiscal year 2014.

This Special Issue on Infrastructure Maintenance and Inspection Robotics has collected papers that propose a broad range of infrastructure maintenance/renovation/management technologies, especially those developed by SIP Infrastructure, in order to contribute to the further development of the field of infrastructure maintenance and inspection technologies.
Regular Papers
No.4
(Aug)
Special Issue on Machine Learning for Robotics and Swarm Systems
Special Issue on Machine Learning for Robotics and Swarm Systems
Editorial:
p. 519
Machine Learning for Robotics and Swarm Systems
Masahito Yamamoto, Takashi Kawakami, and Keitaro Naruse

In recent years, machine-learning applications have been rapidly expanding in the fields of robotics and swarm systems, including multi-agent systems. Swarm systems were developed in the field of robotics as a kind of distributed autonomous robotic systems, imbibing the concepts of the emergent methodology for extremely redundant systems. They typically consist of homogeneous autonomous robots, which resemble living animals that build swarms. Machine-learning techniques such as deep learning have played a remarkable role in controlling robotic behaviors in the real world or multi-agents in the simulation environment.

In this special issue, we highlight five interesting papers that cover topics ranging from the analysis of the relationship between the congestion among autonomous robots and the task performances, to the decision making process among multiple autonomous agents.

We thank the authors and reviewers of the papers and hope that this special issue encourages readers to explore recent topics and future studies in machine-learning applications for robotics and swarm systems.
Regular Papers
No.3
(Jun)
Review on Introduction to Simultaneous Localization and Mapping
Special Issue on Education Based on Practical Exercise on Sensing and Control
Review on Introduction to Simultaneous Localization and Mapping
Special Issue on Education Based on Practical Exercise on Sensing and Control
Editorial:
p. 375
Education Based on Practical Exercise on Sensing and Control
Shoichiro Fujisawa, Kazuo Kawada, and Yoshihiro Ohnishi

Control engineering and sensing engineering improve productivity and save resources and energy in industry, and they are also deeply related to the solving greater societal, economic, and environmental problems. Control engineering and sensing engineering have become dynamic forces that enrich various phases of life through interdisciplinary or cross-sectional study. Furthermore, in recent years, due to the development of information technology, as symbolized by terms such as "big data" or "AI," "sensing and control at a higher level" has become possible, premised by big data processing that is faster by orders of magnitude than conventional data processing. All this has increased the importance of control engineering and sensing engineering.

In response to the development of the fields of control engineering and sensing engineering associated with the advance of the "information society," education in these fields has also needed to be enhanced. On the national scale, the Ministry of Education, Culture, Sports, Science and Technology will introduce Japanese elementary school computational thinking education into elementary school in fiscal year 2020, and the new Courses of Study for High School Information Education in fiscal year 2022. At the same time, individual companies, educational institutions, etc. have also been experimenting with various forms of education in control engineering and sensing engineering. During these changing times, the most advanced studies related to the development of instruction and evaluation methods for educational materials on control engineering, sensing engineering, and control technology have been collected, and the present special issue was planned.

This special issue is a collection of practical papers related to measurement and control education, including one paper on Model-Based Development education in a company and eight papers on education in an educational institution. These eight papers include two on education using a robot contest in a university, one on introducing measurement and control engineering education...<more>
Regular Papers
No.2
(Apr)
Special Issue on Probabilistic Robotics and SLAM
Special Issue on Probabilistic Robotics and SLAM
Editorial:
p. 179
Probabilistic Robotics and SLAM
Keigo Watanabe, Shoichi Maeyama, Tetsuo Tomizawa, Ryuichi