Journals
Mechanical Engineering
Risk Management
Computer Science
Archives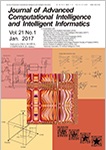 Journal of Advanced Computational Intelligence and Intelligent Informatics
ISSN :
1343-0130(Print) / 1883-8014(Online)
DOI :
10.20965/jaciii.issn.1883-8014
Honorary Editor :
Lotfi A. Zadeh (University of California)
Editors-in-Chief :
Kaoru Hirota (Beijing Institute of Technology),
Toshio Fukuda (Meijo University)
Indexed in ESCI, Scopus, Compendex (Ei)


In Cooperation with :

International Fuzzy Systems Association (IFSA), Japan Society for Fuzzy Theory and Intelligent Informatics (SOFT), Brazilian Society of Automatics (SBA), The Society of Instrument and Control Engineers (SICE), John von Neumann Computer Society (NJSZT), Vietnamese Fuzzy Systems Society (VFSS), Fuzzy Systems and Intelligent Technologies Research Society of Thailand (FIRST), Korean Institute of Intelligent Systems (KIIS), Taiwanese Association for Artificial Intelligence (TAAI)
---
2021-04-19T23:12:25+0000
Vol.15 (2011)
No.9
(Nov)
Special Issue on Awareness Computing in Science and Engineering
Selected Papers from NaBIC 2010
Regular Papers
Special Issue on Awareness Computing in Science and Engineering
Editorial:
p. 1229
Awareness Computing in Science and Engineering
Cheng-Hsiung Hsieh and Hsien-Chou Liao

As awareness computing attracts increasing attention, this special issue has been arranged for researchers, engineers, and scientists to discuss on awareness computing and to exchange ideas, opinions, and the latest results in this emerging new field.

Awareness is the ability to be conscious of, feel, or perceive ? in other words, to have awareness. It implies vigilance in observing and alertness in drawing inferences from experience. The ultimate goal of awareness computing is to create computing systems that are aware.

The eight papers accepted for this issue come mainly from International Symposium on Aware Computing 2010 and cover different aspects of awareness computing in science and engineering. The authors have been kind enough to revise their papers for this publication.

Two papers focus on awareness learning and multimedia-based learning, three examine localization using sensor networks, sound sources, and radiofrequency identification, and three explore a fuzzy-rules mining algorithm, an interactive map search system, and semi-supervised method for pattern recognition.

We thank the reviewers for their time and effort in reviewing papers within a limited time. We are most grateful to Professor Qiangfu Zhao of the University of Aizu, Japan, and to Professors Toshio Fukuda and Kaoru Hirota, Editors-in-Chief, for inviting us to guest-edit this special issue. We also thank the Fuji Technology Press staff for its ongoing assistance.
Selected Papers from NaBIC 2010
Editorial:
p. 1299
Selected Papers from NaBIC 2010
Yusuke Nojima and Mario Köppen

The Second World Congress on Nature and Biologically Inspired Computing (NaBIC2010) was held at the Kitakyushu International Conference Center December 15-17, 2010, in Kitakyushu, Japan. NaBIC2010 provided a forum for researchers, engineers, and students from worldwide to discuss state-of-the-art machine intelligence and to address issues related to building human-friendly machines by learning from nature.

NaBIC2010 covered a wide range of studies ? from theoretical and algorithmic studies on nature and biologically inspired computing techniques to their real-world applications.

Top researchers presenting papers at NaBIC2010 were invited to contribute to this special issue. Through a fair peer review process, four extended papers have been accepted ? an acceptance rate of 50%.

The first paper entitled gA Study on Computational Efficiency and Plasticity in Baldwinian Learningh by Liu and Iba analyzes Baldwinian evolution efficiency by comparing it to alternatives such as standard Darwinian evolution with no learning, Lamarckian evolution, and Baldwinian evolution with different learning and plasticity evolution.

The second paper entitled gExperimental Study of a Structured Differential Evolution with Mixed Strategiesh by Ishimizu and Tagawa proposes island-based DE with ring or torus networks. The authors examine the performance of the proposed DE with the effects of different strategies.

The third paper entitled gMulti-Space Competitive DGA for Model Selection and its Application to Localization of Multiple Signal Sourcesh by Ishikawa, Misawa, Kubota, Tokiwa, Horio, and Yamakawa proposes a distributed genetic algorithm in which each subpopulation searches for a solution in different decision space. Subpopulations change size based on search progress.

The fourth paper entitled gAn Extended Interactive Evolutionary Computation Using Heart Rate Variability as Fitness Value for Composing Music Chord Progressh by Fukumoto, Nakashima, Ogawa, and Imai uses heart-rate variability instead of direct human evaluations in an interactive evolutionary computation framework.

As guest editors of this special issue, we would like to thank the authors for their unique and interesting contributions and the reviewers for their careful checking and invaluable comments.
No.8
(Oct)
Special Issue on Cross-Disciplinary Approaches to Embodied Knowledge of Human Skill
Selected Papers from SCIS & ISIS – No.2
Selected Papers from i-SAIRAS 2010
Special Issue on Cross-Disciplinary Approaches to Embodied Knowledge of Human Skill
Editorial:
p. 941
Cross-Disciplinary Approaches to Embodied Knowledge of Human Skill
Isao Hayashi and Shinichi Furuya

Expertise in sports, music, dance, and craftsmanship is increasingly attracting researchers from many different backgrounds who seek to deepen their understanding of outstanding human skills – a field known as skill science. The goal of skill science is to elucidate neural, cognitive, and computational mechanisms and processes underlying superior sensorimotor functions. To this aim, cross-disciplinary approaches needed include artificial intelligence, computational intelligence, soft computing, robotics, biomechanics, cognitive science, and neuroscience.

This special issue includes a variety of paper focusing on new computational approaces and cutting-edge empirical techniques shedding light on embodied knowledge. Analytical techniques include factorial analysis, such as Principal Component Analysis (PCA) and Singular Vector Decomposition (SVD), correlation networks, machine learning such as cluster analysis, Bayesian statistics, and nonlinear dynamical modeling. Experimental paradigms and techniques include Virtual Reality (VR) environment, comparison between skilled and unskilled individuals and between individuals with and without neurological disorders, and biomechanical and physiological measurement using motion capture, ElectroMyoGraphy (EMG), functional Magnetic Resonance Imaging (fMRI), Transcranial Magnetic Stimulation (TMS), and Auditory Brainstem Response (ABR).

These approaches and techniques have successfully addressed key features of sensorimotor mechanisms behind skilled human behavior. Unique approaches in terms of abduction reasoning and observation learning of robots have quantitatively and qualitatively unraveled cognitive processes in novel skill acquisition.

Findings from these studies provide intriguing insights into developing comprehensive models of embodied knowledge and into practical applications Quantitative evaluation and precise modeling of human skills are, for example, indispensable for developing hardware and software that mimic human functions and for designing robots and Brain-Machine Interfaces (BMI) that enables dexterous human-like behavior. It is of academic and clinical importance to determine mechanisms for acquiring complex sensorimotor skills. These diverse approaches toward a unique goal are expected to build bridges among researchers with vastly different backgrounds, serving as an impetus for boosting this cross-disciplinary research area.

We believe this special issue will serve as a landmark for further developing skill science research.
Selected Papers from SCIS & ISIS – No.2
Editorial:
p. 1049
Selected Papers from SCIS & ISIS 2010 – No.2
Keigo Watanabe, Kazuhiro Ohkura, and Kiyotaka Izumi

This second special issue from the Joint 5th International Conference on Soft Computing and Intelligent Systems and the 11th International Symposium on Advanced Intelligent Systems (SCIS & ISIS) 2010 presents 11 progressive papers covering topics from Fuzzy c-Means, clustering, evolutionary algorithms, and self-organizing maps to optimization, spiral phenomena, matroids, multirobot systems, and reinforcement learning. This wide range of research interests reflects current trends in the SCIS & ISIS conference series. As such, they demonstrate how near-future research interests are gradually moving toward exciting new directions.

We thank the authors and reviewers for taking time out from their busy schedules to make this publication possible. We are especially grateful to Prof. Toshio Fukuda of Nagoya University and to Prof. Kaoru Hirota of the Tokyo Institute of Technology for giving us the opportunity to guest-edit JACIII. Our special thanks go to Ms. Reiko Ohta of Fuji Technology Press Ltd. for her ongoing support in publication.
Selected Papers from i-SAIRAS 2010
Editorial:
p. 1139
Selected Papers from i-SAIRAS 2010
Keiki Takadama

This special issue features the selected papers from i-SAIRAS 2010 (The 10th International Symposium on Artificial Intelligence, Robotics and Automation in Space) at Sapporo, Japan on August 29 – September 1, 2010), which explores the technology of Artificial Intelligence (AI), Automation and Robotics, and its application in space. In the AI domain, in particular, i-SAIRAS focuses on the following issues: (1) spacecraft autonomy (e.g., inboard software for mission planning and execution, resource management, fault protection, science data analysis, guidance, navigation and control, smart sensors, testing and validation, architectures); (2) mission operations automation (e.g., decision support tools for mission planning and scheduling, anomaly detection and fault analysis, innovative operations concepts, data visualization, secure commanding and networking); (3) design tools and optimization methods, electronic documentation; and (4) AI methods (e.g., automated planning and scheduling, agents model-based reasoning, machine learning and data mining).

In the selection process for JACIII (Journal of Advanced Computational Intelligence and Intelligent Informatics), 13 papers were firstly nominated from 133 oral presentation papers as outstanding AI-related papers by i-SAIRAS International Committee, and 6 papers were finally accepted through the two-stages of pear-reviews. All papers were reviewed by three reviewers. As the brief introduction of these papers, the paper by Mark Johnston and Mark Giuliano presents an architecture called MUSE (Multi-User Scheduling Environment) to integrate multi-objective evolutionary algorithms with existing domain planning and scheduling tools. The second paper by Amdeo Cesta et al. discusses general lessons learned from a series of deployed planning and scheduling systems. The third paper by Alessandro Donati et al. spotlights specific achievements and trends in the area of spacecraft diagnosis and mission planning and scheduling. The fourth paper by Cedric Cocaud and Takashi Kubota proposes the system that provides position and attitude information to a spacecraft during its approach descent and landing phase toward the surface of an asteroid. The firth paper by Tomohiro Harada et al. studies On-Board Computer which evolves computer programs through the bit inversion and analyzes its robustness to the bit inversion. Finally, the last paper by Masayuki Otani et al. explores the distributed control of the multiple robots which may be broken in the assembly of space solar power satellite. The editor hopes that these papers would help for readers to capture the state-of-art of AI technology in space.
No.7
(Sep)
Special Issue on Omnipresent Intelligent Computing – New Developments and Societal Impact
Selected Papers from SCIS & ISIS 2010 – No.1
Regular Papers
Special Issue on Omnipresent Intelligent Computing – New Developments and Societal Impact
Editorial:
p. 785
Omnipresent Intelligent Computing – New Developments and Societal Impact
Alfons Schuster and Daniel Berrar

When the computer revolution began in the second half of the 20th century, few could have foreseen the pervasiveness that intelligent devices would have only half a century later. Today, consumers deal with numerous computing devices providing increasingly sophisticated services. Arguably, no other invention has so profoundly impacted on daily home and work lives as the computer. The downside, however, holds the worrying realization that many artifacts of modern technology now touch on the human sphere to the point of risking an individualfs privacy, security, and well-being.

The new millennium carries the computer revolution to unprecedented levels where new computing paradigms excite researchers beyond the limits of science fiction. The burgeoning field of synthetic biology, for example, has given rise to novel computing approaches based on biomolecular materials. Indeed, silicon is no longer the only substrate for intelligent information processing. Other unconventional approaches such as computing with slime molds, for example, now embrace even living organisms. Information processing and problem solving strategies observed in nature have inspired the design of novelmachine learning algorithms. Seemingly unlimited computer power now enables the in silico simulation of living organisms and the study of evolutionary processes with enormous efficiency. Although many of these novel, nature-inspired approaches are still in their infancy, they might bring a paradigm shift in computational science. How such a technology-driven paradigm shift may affect the gsofth components of our modern complex society is a many-faceted issue that deserves our consideration and exploration.

This special issue focuses on new developments in intelligent computing. A. Schuster and D. Berrar analyze the potentials and risks of current and emerging intelligent computing paradigms. Their article focuses on the interface between humans and intelligent systems and explores potentials and risks emerging for individuals and for the information society at large.

L. Palafox and H. Hashimoto propose a new human activity recognition system that relies on the analysis of five key variables to categorize human activities. A prototypical implementation of the system demonstrates promising results for applications in intelligent room settings.

M. Kimura and M. Sugiyama propose a novel approach to unsupervised clustering, which is based on least squares mutual information. The advantage of this approach is that hyperparameters of clustering algorithms such as kernel parameters no longer need to be manually calibrated, but they can be automatically optimized.

D. Ricinschi and E. Tokumitsu explore new ways of exploiting physical properties of ferroelectric materials. They investigate how the amount of polarization generated by two electrical pulses can be modeled and explained in the framework of game theory.

This special issue informs the research community about exciting new developments in intelligent computing, with an outlook on their societal impacts.
Selected Papers from SCIS & ISIS 2010 – No.1
Editorial:
p. 813
Selected Papers from SCIS & ISIS 2010 – No.1
Keigo Watanabe, Kazuhiro Ohkura, and Kiyotaka Izumi

SCIS & ISIS is a biennial international joint conference on soft computing and intelligent systems, with research ranging from fuzzy systems, neural networks, and evolutionary computation to multi-agent systems, artificial intelligence, and robotics.

SCIS & ISIS 2010 consisted of the 5th International Conference on Soft Computing and Intelligent Systems (SCIS) and the 11th International Symposium on Advanced Intelligent Systems (ISIS), held at Okayama Convention Center on December 8-12, 2010. Original presentations numbered 302 and participants 322.

After preliminary selection by SCIS & ISIS 2010 session chairs, we listed over 70 papers to be published in extended form in the Special Issue of the Journal of Advanced Computational Intelligence and Intelligent Informatics. After inviting these authors to submit papers for this special issue, we had two referees to review them and accepted 27 for publication in Vol.15, Nos.7 and 8 in 2011.

This special issue presents 15 of these papers covering most conference topics, including fuzzy theory, learning methods, neural networks, and evolutionary computation, with a focus on reinforcement learning, multi-agent system, nonlinear estimation, and real-world applications to visual system, robotics and energy.

We thank the authors and reviewers for their invaluable contributions toward making this special issue possible. We are also grateful to Editors-in-chief Prof. Toshio Fukuda of Nagoya University and Prof. Kaoru Hirota of the Tokyo Institute of Technology for inviting us to serve as Guest Editors.