Journals
Mechanical Engineering
Risk Management
Computer Science
Archives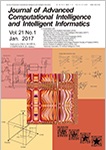 Journal of Advanced Computational Intelligence and Intelligent Informatics
ISSN :
1343-0130(Print) / 1883-8014(Online)
DOI :
10.20965/jaciii.issn.1883-8014
Honorary Editor :
Lotfi A. Zadeh (University of California)
Editors-in-Chief :
Kaoru Hirota (Beijing Institute of Technology),
Toshio Fukuda (Nagoya University)
Indexed in ESCI, Scopus, Compendex (Ei), DOAJ


In Cooperation with :

International Fuzzy Systems Association (IFSA), Japan Society for Fuzzy Theory and Intelligent Informatics (SOFT), Brazilian Society of Automatics (SBA), The Society of Instrument and Control Engineers (SICE), John von Neumann Computer Society (NJSZT), Vietnamese Fuzzy Systems Society (VFSS), Fuzzy Systems and Intelligent Technologies Research Society of Thailand (FIRST), Korean Institute of Intelligent Systems (KIIS), Taiwanese Association for Artificial Intelligence (TAAI)
---
2023-01-19T19:18:27+0000
Vol.7 (2003)
No.3
(Oct)
Intelligent Technologies, Fuzzy Systems and Applications
Intelligent Technologies, Fuzzy Systems and Applications
Editorial:
p. 251
Intelligent Technologies, Fuzzy Systems and Applications
Nguyen Hoang Phuong

In this issue, we are featuring fifteen papers devoted to intelligent technologies, fuzzy systems and their applications as a special issue of the journal. The papers are selected from papers accepted and presented at the joint Third International Conference on Intelligent Technologies and Third Vietnam-Japan Symposium on Fuzzy Systems and Applications (InTech/VJFuzzy'2002) that was held in Hanoi, Vietnam on December 3-5, 2002. In InTech/VJFuzzy'2002, there was a wide spectrum of research topics on artificial intelligence, fuzzy systems, soft computing, and related fields such as"fuzzy logic", "fuzzy set theory", "fuzzy systems", "AI techniques", "Bayesian networks", "genetic algorithms", "neural networks", "knowledge discovery and data mining", "speech recognition", "soft computing in medicine", among others. More than 60 papers were accepted and presented by authors from many countries, including Australia, China, India, Korea, Germany, France, Thailand, Taiwan, Japan, Vietnam, and U.S.A. Fifteen papers that received outstanding recommendations from its reviews were selected in this special issue. The topics addressed by these selected papers include fuzzy rule systems, fuzzy inference methods, fuzzy and rough models, problem solving with equivalent transformation, genetic algorithms, reinforcement learning, non–monotonic reasoning, support vector machines, Hedge algebra, intelligent control, natural language understanding, self–organizing map learning, soft computing and data mining in medicine. As editors of this special issue, we would like to express our sincere gratitude to paper's authors in this issue. Our special thanks go to the anonymous referees for their excellent job, Ms. Kumiko Sato for her help in coordinating the publication of the issue, the Editorial Board of JACIII, especially Professor Kaoru Hirota for his great support and encouragement. Finally, we wish to thank Professors Hung T. Nguyen, Michio Sugeno and Pratit Santiprabhob for their help and contribution to InTech/VJFuzzy'2002. Without their support, the InTech/VJFuzzy'2002 and this issue would not be possible.
No.2
(Jun)
Selected Papers from SCIS & ISIS 2002
Selected Papers from SCIS & ISIS 2002
Editorial:
p. 71
Selected Papers from SCIS & ISIS 2002
Sadaaki Miyamoto, and Seiji Yasunobu

Much work has been done recently in soft computing, reflecting the growing, widespread interest in the emerging theory and technological development in this field. Soft computing has also been the subject of a number of new scientific conferences and symposiums, including the Joint 1st International Conference on Soft Computing and Intelligent Systems (SCIS) and 3rd International Symposium on Advanced Intelligent Systems (ISIS) at the National Institute of Advanced Industrial Science and Technology at Tsukuba on October 21–25, 2002. The first and second ISIS were held in Korea, and the joint conference has become internationally recognized. The conference at Tsukuba featured over 200 papers and discussions and information exchange by over 250 participants interested in state–of–the–art soft computing. The 20 papers in this special issue were selected from 209 of these conference presentations. In the selection process, guest editors first requested recommendation of papers to session chairs and organizers. From the resulting list, we asked if they could submit their papers. Submitted papers were reviewed as usual for this journal based on the JACIII standard, resulting in the acceptance of these 20. Most papers have been rewritten and updated, and we are proud of their high quality–a reflection of the SCIS & ISIS conference review process. Papers come from different areas: two focus on theory, including modal logic. Several study fuzzy control. Still others deal with different aspects of robotics. They also cover data analysis, image analysis, knowledge analysis, and language studies involving soft computing. This issue thus provides a concise summary of state–of–the–art soft computing methodologies. We thank the referees for their untiring efforts to complete reviews within the limited time given. We also thank Professor Kaoru Hirota and Professor Toshio Fukuda, editors–in–chief of this journal, for their kind invitation to this special issue. Professor Hirota, who is also the International Advisory Board Chair, and Dr. Takanori Shibata, the General Chair, are largely responsible for the great success of the SCIS & ISIS 2003 conference, where Guest Editor Miyamoto served the Program Chair and Yasunobu served the Special Sessions Chair. The results of their work are thus reflected in this issue. In closing, we also thank the staff at Fuji Technology Press for its on going assistance.
No.1
(Feb)
Selected Papers FSS2002
Selected Papers FSS2002
Editorial:
p. 1
Selected Papers FSS2002
Tetsuhisa Oda

Research in fuzzy system theory and its application has progressed rapidly in Japan since the first Fuzzy System Symposium (FSS) in 1985. This national meeting has been held annually for reading research papers by fuzzy system theory researchers. The Japan Society for fuzzy system theory and Systems (SOFT), set up in 1989, was made the SOFT's official annual meeting. The 18th FSS (FSS 2002), held at the Nagoya Institute of Technology, Nagoya, Japan, from August 28 to 30, attracted over 320 participants and was the site of 197 lectures. At this FSS,Kaoru Hirota, President of the Society, declared, "It is necessary for researchers in fuzzy system theory in Japan to present results of their study in English for readers overseas. I am happy to announce that our society is to publish a journal of collected papers in English 3 times a year, in addition to the society journal in Japanese, entitled the Journal of Advanced Computational Intelligence and Intelligent Informatics (JACIII).' " The initial result is this special February 2002 issue, which contains papers from preparatory papers read at FSS2002. Editing of this special issue was entrusted to the executive committee of FS2002, with the symposium chair acting as the guest editor. Other members of the editing committee are Hitoshi Yano, Nagoya City University; Moritoshi Sasaki, Aichi University of Education; Yahachiro Tsukamoto, Meijo University; Takeshi Furuhashi, Mie University; Yasuhisa Hasegawa, Nagoya University; Miho Ohsaki, Shizuoka University; Hiroto Mizunuma, Meijyo University; Tomohiro Yoshikawa, Mie University; and Tsuyoshi Nakamura, Nagoya Institute of Technology. We thank the committee members and referees for paper selection , and Kumiko Satoh of Fuji Technology Press Ltd. for clerical work associated with the preparation of the journal. Most papers have been rewritten by the authors for this publication. Two are written in English and 7 in Japanese and translated into English after selection. At least 2 referees read each paper to select the final 9. Subjects include fuzzy data base, learning, fuzzy clustering, application for marketing, industrial application, psychological application, and fuzzy logic. All research is original and represents the current level and trends in fuzzy system theory research in Japan. Unfortunately, circumstances forced us to select papers from among 4-page preparatory papers despite the possibilities in 2-page papers. If, however, the FSS special issues of JACIII every year, up-to-date papers prepared by Japanese researchers will be available for review by overseas readers with a possible significant contribution to the research of fuzzy system theory worldwide. This will be a good opportunity for Japanese researchers to make their results known overseas, making participation in FSS even more meaningful. In January 2003, the official name of SOFT was changed to the Japan Society for fuzzy system theory and Intelligent Informatics. We sincerely hope that JACIII will become a useful tool for presenting the latest fuzzy system theory research in Japan to the world, and, in turn, support indirectly the society's development.
Vol.6 (2002)
No.1
(Jan)
Selected Papers VJFUZZY'2001
Selected Papers VJFUZZY'2001
Editorial:
p. 1
Selected Papers VJFUZZY'2001
Nguyen Hoang Phuong*and Koichi Yamada**

This special issue of the journal is devoted to Fuzzy Systems and their Applications. Today's fuzzy technology is like a mighty dragon: every year, every day, new applications appear that are more and more helpful in our peaceful life. One of the main objectives of the Second International Vietnam-Japan Symposium on Fuzzy Systems and Applications (VJFUZZY'2001) is to help this powerful technology to achieve even more. VJFUZZY'2001 was held in Hanoi, Vietnam on December 7-8, 2001. In VJFUZZY'2001, there was a wide spectrum of fuzzy research and applications, including sessions: "Fuzzy Mathematics", "Fuzzy Image/Signal Processing and Pattern recognition", "Fuzzy Optimization/Programming", "Fuzzy Data Analysis and its applications", "Towards Combining Fuzzy, probability and other techniques", "Learning, Neural Networks and Applications", "Fuzzy/Intelligent Control", "Natural Language Processing" etc. Many very interesting results were presented at the symposium. Among these various and excellent papers, this special issue offers a selection of nine papers that contribute to advances of computational intelligence in various aspects. The topics that the selected papers deal with are fuzzy relation with threshold, nonlinear optimization with convex polyhedral objective function, reinforcement learning of fuzzy control rules, learning of probabilistic causal models, data querying in fuzzy relational database, case-based reasoning in medial diagnosis, analysis of human brain activities for fuzzy and crisp calculations, fuzzy robust control of a decentralized system and image processing using fuzzy mathematical morphology. As editors of this special issue, we would like to express our thanks to all of the contributors for their interesting results, the anonymous referees for their thankless job and the Editorial Board of JACI, especially Prof. Kaoru Hirora, for the enthusiastic hospitality with which JACI agreed to have this special issue. Finally, we want to thank Prof. Hung T Nguyen and Prof. Michio Sugeno – for their supports to VJFUZZY'2001. Without their help, the VJFUZZY'2001 and then this special issue would not be impossible.