Study on Assist Education of Swing Riding Using a Robot
Kazuo Kawada and Masahiro Ito
Graduate School of Education, Hiroshima University
1-1-1 Kagamiyama, Higashi-Hiroshima, Hiroshima 739-8524, Japan

Received:
May 22, 2017
Accepted:
October 4, 2017
Published:
December 20, 2017
Keywords:
swing riding, assist education, robot, demonstration, observational learning
Abstract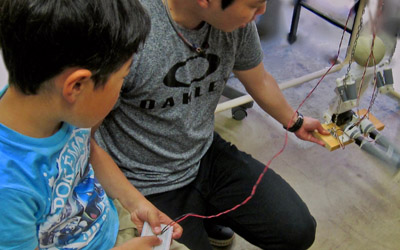 This paper describes a framework for "Robo-iku" (education facilitated by robots) at the kindergarten and primary school levels. We believe the concept of Robo-iku can help to give a unified approach to the problem of the avoidance of science and technology learning. It can also provide young children with opportunities to develop various skills, such as cooperative skills and/or skills to help them relate well to others. We detail the practical experience of a "monotsukuri" workshop for primary school children, a workshop on designing and building rescue robots. A working definition of "Robo-iku" is provided. The results of the workshop imply that the concept of Robo-iku needs to be further investigated.
Cite this article as:
K. Kawada and M. Ito, "Study on Assist Education of Swing Riding Using a Robot," J. Robot. Mechatron., Vol.29 No.6, pp. 999-1004, 2017.
Data files:
References
[1] Ministry of Education, Culture, Sports, Science and Technology, "Elementary Courses of Study," Tokyo Shoseki Co., Ltd., 2008 (in Japanese).
[2] M. Polanyi, "The Tacit Dimension," The University of Chicago Press, 1983.
[3] M. Polanyi, "Knowing and being," University of Chicago Press, 1969.
[4] W. Spong, "The Swing Up Control Problem for the Acrobot," IEEE Control Systems Magazine, Vol.15, pp. 49-55, 1995.
[5] S. Takashima, "Robots Playing Sports : Gymnast Robots," J. of the Japan Society of Mechanical Engineers, Vol.95, No.888, pp. 1010-1012, 1992 (in Japanese).
[6] H. Okazaki, Y. Kanai, M. Ogata, K. Hasegawa, K. Ishii, and M. Imai, "Toward Understanding Pedagogical Relationship in Human-Robot Interaction," J. of Robotics and Mechatronics, Vol.28, No.1, pp. 69-78, 2016.
[7] A. Bandura, "Psychological Modeling: Conflicting Theories," Transaction Publishers, 1974.
[8] A. Bandura, "Social Learning Theory," Prentice Hall, 1977.
[9] J. Piaget, "The role of action in the development of thinking," Knowledge and Development, Springer US, pp. 17-42, 1977.
[10] K. Kawada, M. Nagamatsu, and T. Yamamoto, "An Approach to Rescue Robot Workshops for Kindergarten and Primary School Children," J. of Robotics and Mechatronics, Vol.25, No.3, pp. 521-528, 2013.
[11] K. Kawada, "Development of Educational Material to Motivation of Picking Up Rubbishes for Elementary School Students," IEEJ Trans. on Electronics, Information and Systems, Vol.137-C, No.1, pp. 76-81, 2017 (in Japanese).
[12] T. Yokoi, K. Shibukawa, and M. Ae, "Body Segment Parameters of Japanese Children," Japanese J. of Physical Education, Vol.31, No.1, pp. 53-66, 1986.
[13] M. Banzi, "Getting Started with Arduino," O'Reilly Media Inc., 2011.
[14] S. Campbell, J. P. Chancelier, and R. Nikoukhah, "Modeling and Simulation in Scilab/Scicos," Springer, 2005.
This article is published under a Creative Commons Attribution-NoDerivatives 4.0 Internationa License.