Trial Production of Vertical Take-Off and Landing Aircraft Based on Tricopter
Kiyoteru Hayama* and Hiroki Irie**
*National Institute of Technology, Kumamoto College, Kumamoto Campus
2659-2 Suya, Koshi, Kumamoto 861-1102, Japan

**National Institute of Technology, Kumamoto College, Yatsushiro Campus
2627 Hirayamashin-machi, Yatsushiro, Kumamoto 866-0074, Japan

Received:
August 19, 2015
Accepted:
May 14, 2016
Published:
June 20, 2016
Keywords:
UAV, VTOL, tricopter, tail sitter, flying robot
Abstract
Trial production has begun on tricopter-based new-concept vertical take-off and landing aircraft (VTOL). The VTOL features three fixed-angle motors on a reversed-T shape body and a fixed wing with an elevon and a rudder. The proposed craft uses fewer components than quadcopter-based VTOL craft. Continuous transition from rotorcraft to fixed-wing craft is completed with the craft's 90° tilt.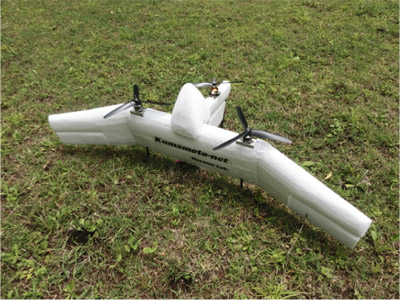 Cite this article as:
K. Hayama and H. Irie, "Trial Production of Vertical Take-Off and Landing Aircraft Based on Tricopter," J. Robot. Mechatron., Vol.28 No.3, pp. 314-319, 2016.
Data files:
References
[1] J. Wendel, O. Meister, C. Schlaile, and G. F. Trommer, "An integrated GPS/MEMS-IMU navigation system for an autonomous helicopter," Aerospace Science and Technology, Vol.10, Issue 6, pp. 527-533, 2006.
[2] K. Kita, A. Konno, and M. Uchiyama, "Hovering Control of a Tail-Sitter VTOL Aerial Robot," J. of Robotics and Mechatronics, Vol.21, No.2, pp. 277-283, 2009.
[3] A. S. Saeed, A. B. Younes, S. Islam, J. Dias, L. Seneviratne, and G. Cai, "A review on the platform design, dynamic modeling and control of hybrid UAVs," Proc. of Int. Conf. on Unmanned Aircraft Systems (ICUAS), pp. 806-815, June 9-12, 2015.
[4] M. Simons, "Model Aeroplane Aerodynamics," Chapter 7-9, Aerofoil Sections, Model & Allied Publications, 1978.
This article is published under a Creative Commons Attribution-NoDerivatives 4.0 Internationa License.