Development of Robotic Defecation Simulator
Koushi Tokoro*, Takuya Hashimoto**, and Hiroshi Kobayashi***
*Department of Mechanical Engineering, Graduate School of Engineering, Tokyo University of Science, 6-3-1 Niijuku, Katsushika-ku, Tokyo 125-8585, Japan
**Department of Engineering and Intelligent Systems, Graduate School of Informatics and Engineering, The University of Electro-Communications, 1-5-1 Chofugaoka, Chofu-shi, Tokyo 182-8585, Japan
***Department of Mechanical Engineering, Tokyo University of Science, 6-3-1 Niijuku, Katsushika-ku, Tokyo 125-8585, Japan
Received:
January 14, 2014
Accepted:
April 24, 2014
Published:
June 20, 2014
Keywords:
robot, human engineering, nursing care, toilet
Abstract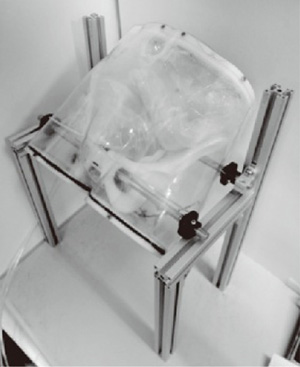 Defecation robot
The processing of human excretion has become a serious problem in two specialized environments – the nursing care of elderly bed-ridden patients and the microgravity space environments as the International Space Station. To deal with such issues, the authors are developing a new type of toilet system, and they feel that a defecation simulator is needed to investigate and test such systems. This paper discusses development of a robotic defecation simulator (defecation robot) that mimics defecation involving the rectum, anal sphincter, puborectalis muscle, abdominal pressure, etc.
Cite this article as:
Koushi Tokoro, Takuya Hashimoto, and Hiroshi Kobayashi, "Development of Robotic Defecation Simulator," J. Robot. Mechatron., Vol.26, No.3, pp. 377-387, 2014.
Data files:
References
[1] T. Itakura, M. Mitsuda, and T. Anamura, "Research on characteristics of the odors from excrement at the adult diaper exchange," Trans. of AIJ. J. of environmental engineering, Vol.73, No.625, pp. 335-341, 2008.
[2] T. Fujimoto, T. Hashimoto, H. Sakaki, Y. Higashi, T. Tamura, and T. Tsuji, "Automated Handling System for Excretion," Proc. of the 20th Annual Int. Conf. of the IEEE Engineering in Medicine and Biology Society, Vol.20, No.4, pp. 1973-1974, 1998.
[3] R. M. Mullane, "Riding rockets: the outrageous tales of a space shuttle astronaut," H. Kaneko (trans.), Kagaku-Dojin, 2008.
[4] T. Yoshida, Y. Yamazaki, N. Asai, and H. Kobayashi (Super Toilet Development Team), "Super toilet, a future created from innovative Waste Collection System," Proc. of the Space Science and Technology Conf., Vol.53, 2A03, 2009.
[5] S. Kawamoto, T. Yamamoto, T. Kandabashi, K. Tanaka, and H. Kitamura, "Evaluation method of stain protection performance of automatic cleaning toilet," Matsushita ElectricWorks technical report, Vol.55, No.4, pp. 104-109, 2007.
[6] T. Teramoto, "Functional Characteristic Features in Anatomy and Physiology of the Anal Canal," The Japanese J. of Gastroenterological Surgery, Vol.23, No.8, pp. 2147-2150, 1990.
[7] K. F. Noakes, I. P. Bissett, A. J. Pullan, and L. K. Cheng, "Anatomically Based Computational Models of the Male and Female Pelvic Floor and Anal Canal," Proc. of the 28th IEEE EMBS Annual Int. Conf., pp. 3815-3818, 2006.
[8] N. Okamoto, "Correlations of Anatomical Parameters in Dynamic Pelvic CT and Conventional Defecography for Patients with Rectal Prolapse," The Keio J. of Medicine, Vol.57, pp. 205-210, 2008.
[9] M. Schünke, E. Schulte, U. Schumacher, M. Voll, and K. Wesker, "PROMETHEUS Lernatlas der Anatomie: Hals und Innere Organe," T. Sakai and O. Ootani (trans.), pp. 150-203, 2008.
[10] W. Kahle, H. Leonhardt, and W. Platzer, "Taschenatlas der Anatomie für Studium und Praxis," J. Ochi (trans.), Bunkodo, pp. 20-375, 1990 (in Japanese).
[11] K. Nishimura (Ed.), "Haiben Asesumento & Kea Gaido: Sikkan Syouzyou Chiryou Syochi Betsu," pp. 8-13, 2009.
[12] D. Chen, H. Kobayashi, and Y. Koyama, "Study on Deformation of a McKibben Type Actuator," Trans. of the Japan Society of Mechanical Engineers, Series A, Vol.75, No.759, pp. 54-61, 2009.
[13] S. Masayasu and U. Yuichi, "Intra-Abdominal Pressure Measurement by Using a Pressure-Sensitive Radio Pill," Bulletin of Nippon Sport Science University, Vol.14, No.2, pp. 55-58, 1985.
[14] R. Azuma and A. Matsuoka, "Relation of Starning Styles at Defecation and Intraabdominal Pressures – On the 30° Fowler's Position –," J. of Japanese Society of Nursing Research, Vol.14, No.2, pp. 61-68, 1991.
[15] S. Isoda, M. Okita, Yokohamashi Nanbu Hospital, A. Sakamoto, T. Soma, K. Imoto, S. Suzuki, K. Uchida, N. Kosuge, and Y. Takanashi, "Intra-Abdominal Pressure Monitoring after Ruptured Abdominal Aortic Aneurysm Surgery," Japanese J. of Cardiovascular Surgery, Vol.33, No.5 pp. 314-318, 2004.
[16] I. Kawa, "A New Method for the Assessment of Anorectal Function in Defecation Disorder: Videodefecography Synchronized with Anorectal Manometry," J. of Japan Society of Coloproctology, Vol.48, No.4, pp. 289-300, 1995.
[17] S. Amano, "Dynamic Anorectal Manometry in the Assessment of Patients with Rectocele," J. of Japan Society of Coloproctology, Vol.53, No.10, pp. 962-968, 2000.
[18] S. Kawamoto, K. Tanaka, and H. Kitamura, "Simulated waste," Japanese Unexamined Patent Application Publication No.2007-315974, Dec. 6, 2007.
[19] L. J. D. O'Donnell, J. Virjee, and K.W. Heaton, "Detection of pseudodiarrhoea by simple clinical assessment of intestinal transit rate," British Medical J. (Int. Edition), Vol.300, Issue 6722, pp. 439-440, 1990.

Supporting Online Materials:
[a] JAXA, "About the ISS – International Space Station," Japan Aerospace Exploration Agency.
http://www.jaxa.jp/index e.html
[Accessed April 1, 2014]
[b] Medical union.
http://www.koumon.jp/archives/1
[Accessed June 2, 2014]
[c] Yazaki Kako Corporation, kaigo-web.
http://www.kaigo-web.info/kouza/maeuke/no2/index.html
[Accessed June 2, 2014]
[d] Flat Pyramid, "3D Models – Stock and Custom," Flat Pyramid 3D Model Shop and Marketplace.
http://www.flatpyramid.com/
[Accessed June 2, 2014]