Development of Trident Motif Riden Mobile Robot for Robot-Triathlon Robot Contest
Atsushi Mitani*, Yuhei Suzuki**, and Yuta Tochigi***
*School of Design, Sapporo City University
Sapporo, Hokkaido 005-0864, Japan

**Advanced Institute of Industrial Technology
Shinagawa-ku, Tokyo 140-0011, Japan

***Natoco Co., Ltd.
Miyoshi, Aichi 470-0213, Japan
Received:
February 3, 2016
Accepted:
November 21, 2016
Published:
February 20, 2017
Keywords:
robot contest, robot design, design education, aesthetic appeal, 3D modeling
Abstract
The mobile robot Riden uses the trident motif for in the robot-triathlon contest annually held in Hokkaido, Japan. The robot-triathlon contest involves three tasks: line tracing, a wandering forest, and cone stacking. Robots must complete these tasks as fast as possible with autonomous control. This means that function design usually takes priority over aesthetic appeal. We are the only college of design education team taking part. Our teams have done so by developing robots that take both function and aesthetic appeal into account. Based on 3D modeling technology, design education students use their design and modeling skills to design robots that are both aesthetic and functional. Riden was designed using SolidWorks 3D-CAD software and its parts modeled using a 3D printer.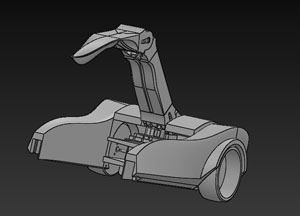 Cite this article as:
A. Mitani, Y. Suzuki, and Y. Tochigi, "Development of Trident Motif Riden Mobile Robot for Robot-Triathlon Robot Contest," J. Robot. Mechatron., Vol.29 No.1, pp. 269-272, 2017.
Data files:
References
[1] M. Ami, "Education Effects of Robot Contests," J. of Robotics and Mechatronics, Vol.10, No.1, pp. 51-55, 1998.
[2] N. Hanajima, Y. Hashimoto, M. Yamashita, and H. Hikita, "Robot Triathlon aiming at Introductory Education of Engineering," Proc. of Robomec 2013, 1A1-3F-F5, 2013.
[3] H. Satoh and A. Mitani, "Robot Design in the Robot Triathlon – a Robot Contest in Hokkaido," Proc. of Robomec 2010, 1P1-F24, 2010.
[4] T. Morishita, "Creating Attraction for Technical Education Material and its Educational Benefit (Development of Robotic Education Material Characterized by 3D CAD/CAM and Compact Stereo Vision)," J. of Robotics and Mechatronics, Vol.23, No.5, pp. 665-675, 2011.
[5] H. Tanaka, N. Asakawa, and M. Hirao, "Development of a Forging Type Rapid Prototyping System; Automation of a Free Forging and Metal Hammering Working," J. of Robotics and Mechatronics, Vol.17, No.5, pp. 523-528, 2005.
[6] K. Kijima and K. Oshiba, S. Hagihara, S. Kasai, M. Ishida, and S. Shimizu, "Direct Production for Prosthetic Sockets using Rapid Prototyping," J. of Robotics and Mechatronics, Vol.14, No.6, pp. 581-588, 2002.
[7] N. Hanajima, M. Yamashita, Y. Hoshino, A. Takashima, and H. Hikita, "Development of Robot-triathlon standard robot version 4," Proc. of Robomec 2008, 2A1-I20, 2008.
This article is published under a Creative Commons Attribution-NoDerivatives 4.0 Internationa License.