Virtual Mooring Buoy "ABA" for Multiple Autonomous Underwater Vehicles Operation
Yuya Nishida*1, Junichi Kojima*2, Yuzuru Itoh*3, Kenkichi Tamura*4, Harumi Sugimatsu*5, Kangsoo Kim*4, Taku Sudo*6, and Tamaki Ura*1
*1Kyushu Institute of Technology
2-4 Hibikino, Wakamatsu, Kitakyushu, Fukuoka 808-0196, Japan

*2KDDI R&D Laboratories
2-1-15 Ohara, Fujimino, Saitama 356-8502, Japan

*3Ocean Engineering Research, Inc.
503 Koshin Building, 1-28-3 Takadanobaba, Shinjuku, Tokyo 169-0075, Japan

*4National Maritime Research Institute
6-38-1 Shinkawa, Mitaka, Tokyo 181-0004, Japan

*5The University of Tokyo
4-6-1 Komaba, Meguro, Tokyo 153-8505, Japan

*6IHI Corporation
1 Shin-Nakahara, Isogo, Yokohama 235-0031, Japan

Received:
August 25, 2015
Accepted:
November 5, 2015
Published:
February 20, 2016
Keywords:
buoy, ASV, multiple AUVs
Abstract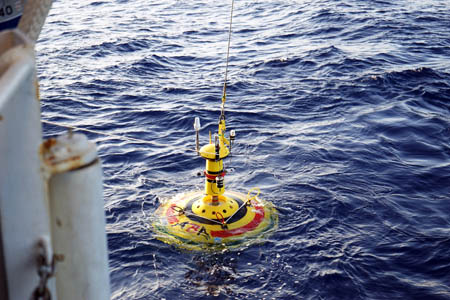 We developed a virtual mooring buoy, called an autonomous buoy "ABA" for AUV, which navigates the sea using thrusters in 2014. Its purpose was to deploy autonomous underwater vehicles (AUVs) effectively in seafloor exploration. The ABA tracks and positions AUVs operating underwater using onboard acoustic positioning. We have deployed the ABA with two type AUVs in seafloor exploration. That conducted in February 2015 used the ABA with one AUV to survey and inventory mineral deposits, demonstrating the ABA's capability of positioning an AUV navigating at 1,370–1,550 m depths at a standard deviation of 100 m or less and tracking it while maintaining a horizontal distance of 50 m or less. The ABA navigated the AUV within a position error of about 10 m.
References
[1] Y. Nishida et al., "Hovering Type AUV Tuna-Sand and Its Surveys on Smith Caldera in Izu-Ogasawara Ocean Area," Proc. of MTS/IEEE OCEANS, 130510-001, 2013.
[2] Y. Nishida et al., "Development of an autonomous buoy system for AUV," Proc. of MTS/IEEE OCEANS, 141205-249, 2015.