FPGA-Based Stereo Vision System Using Gradient Feature Correspondence
Hayato Hagiwara, Yasufumi Touma, Kenichi Asami, and Mochimitsu Komori
Department of Applied Science for Integrated System Engineering, Kyushu Institute of Technology
1-1 Sensui, Tobata, Kitakyushu 804-8550, Japan

Received:
June 23, 2015
Accepted:
August 24, 2015
Published:
December 20, 2015
Keywords:
stereo vision, corner detection, feature description, gradient features, FPGA
Abstract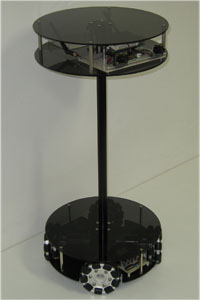 Mobile robot with a stereo vision
This paper describes an autonomous mobile robot stereo vision system that uses gradient feature correspondence and local image feature computation on a field programmable gate array (FPGA). Among several studies on interest point detectors and descriptors for having a mobile robot navigate are the Harris operator and scale-invariant feature transform (SIFT). Most of these require heavy computation, however, and using them may burden some computers. Our purpose here is to present an interest point detector and a descriptor suitable for FPGA implementation. Results show that a detector using gradient variance inspection performs faster than SIFT or speeded-up robust features (SURF), and is more robust against illumination changes than any other method compared in this study. A descriptor with a hierarchical gradient structure has a simpler algorithm than SIFT and SURF descriptors, and the result of stereo matching achieves better performance than SIFT or SURF.
Cite this article as:
H. Hagiwara, Y. Touma, K. Asami, and M. Komori, "FPGA-Based Stereo Vision System Using Gradient Feature Correspondence," J. Robot. Mechatron., Vol.27, No.6, pp. 681-690, 2015.
Data files: