Power Assist Chair
Kazuto Miyawaki
Department of Mechanical Engineering, National Institute of Technology, Akita College
1-1 Iijima-Bunkyo-cho, Akita 011-8511, Japan

Received:
February 9, 2015
Accepted:
April 20, 2015
Published:
June 20, 2015
Keywords:
chair, human dynamics, biomechanics, disabled, elderly people
Abstract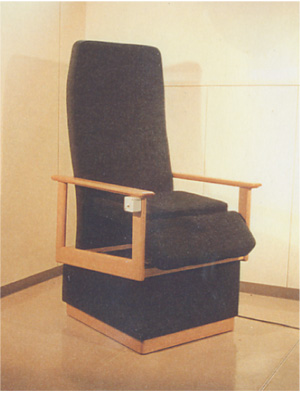 Power assist chair

Medical and nursing care of the elderly is becoming a significant social burden. Welfare equipment is also being developed to help the elderly use their potential. Against this background, we developed a power assist chair for helping the elderly live life as independently as possible.
Cite this article as:
K. Miyawaki, "Power Assist Chair," J. Robot. Mechatron., Vol.27 No.3, p. 305, 2015.
Data files:
References
[1] K. Miyawaki et al., "Evaluation of standing up and sitting down of elderly people," JSME 2000 Symposium, pp. 353-354, 2000.
This article is published under a Creative Commons Attribution-NoDerivatives 4.0 Internationa License.