The Development of Intra-House Mobility, Logistics and Transfer Solutions in PASSAge
Thomas Bock, Jörg Güttler, Christos Georgoulas, and Thomas Linner
Chair of Building Realization and Robotics, Technische Universität München, Germany

Received:
July 1, 2014
Accepted:
December 1, 2014
Published:
February 20, 2015
Keywords:
in-house mobility, home care, assisted living, mobile robotics, ambient intelligence
Abstract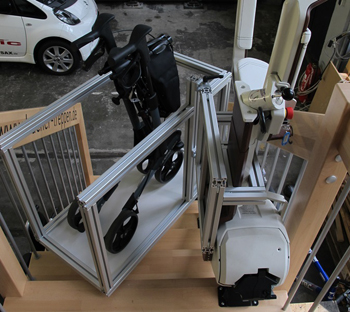 Transfer and logistic solution
Within the ongoing research project, the Chair of Building Realization and Robotics is identifying, developing and validating robotic-based concepts for intra-house mobility, logistics and transfer to support elderly people within their home environment. The project is conducted jointly with several research and industry partners.
Cite this article as:
Thomas Bock, Jörg Güttler, Christos Georgoulas, and Thomas Linner, "The Development of Intra-House Mobility, Logistics and Transfer Solutions in PASSAge," J. Robot. Mechatron., Vol.27, No.1, p. 108, 2015.
Data files:
References
[1] B. Geilhof, J. Güttler, M. Heuberger, S. Diewald, and D. Kurz, "Weiterentwicklung existierender Assistenz-und Mobilitäts-hilfen für Senioren-Nutzen, Akzeptanz und Potenziale," 2014.
This article is published under a Creative Commons Attribution-NoDerivatives 4.0 International License.