pico-FCV: Small Single-Operator Electric-Vehicle Using 20 W Hydrogen Fuel Cell Developed for Mechatronics Education
Yoshihiko Takahashi, Masayuki Tomike, and Takahiro Hirayama
Department of Vehicle System Engineering, Kanagawa Institute of Technology, 1030 Shimo-Ogino, Atsugi, Kanagawa 243-0292, Japan
Received:
October 14, 2013
Accepted:
June 14, 2014
Published:
August 20, 2014
Keywords:
small electric vehicle, hydrogen fuel cell, mechatronics education, ecology system
Abstract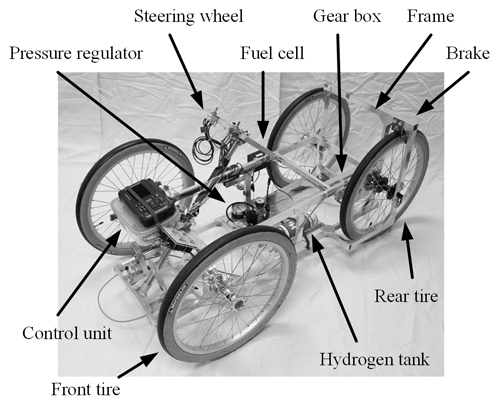 pico-FCV: small fuel cell EV

A small, single-operator electric-vehicle using a 20 W hydrogen fuel cell, named pico-FCV, was developed for educational purposes. The design of the pico-FCV will promote student interest in environmental concerns. The project provides students with practical experience in mechatronics subjects such as mechanical design, electric circuit design, and programming. This paper will present the design and experimental results of the pico-FCV. The designed pico-FCV was able to run 2.7 km only using 5 l (0.5 g) hydrogen.
Cite this article as:
Y. Takahashi, M. Tomike, and T. Hirayama, "pico-FCV: Small Single-Operator Electric-Vehicle Using 20 W Hydrogen Fuel Cell Developed for Mechatronics Education," J. Robot. Mechatron., Vol.26 No.4, pp. 515-517, 2014.
Data files:
References
[1] J. H. Cheng, C. Y. Yu, and V. Hsu, "Energy Management Algorithm for a Hybrid Fuel Cells Scooter," Int. IEEE Vehicle Power and Propulsion Conf. (VPPC), pp. 370-375, 2009.
[2] S. Yamaguchi, T. Yamazaki, Y. Namekawa, and Y. Takahashi, "Hybrid Energy Control Using DC-DC Converter for Single Operator Fuel Cell Vehicle," Int. IEEE Vehicle Power and Propulsion Conference (VPPC), pp. 1188-1193, 2012.
[3] Y. Takahashi, "Ultra Light Weight Fuel Cell Electrical Vehicle (UL-FCV)," IEEE Int. Symposium on Industrial Electronics (ISIE), pp. 189-194, 2009.
This article is published under a Creative Commons Attribution-NoDerivatives 4.0 Internationa License.