Design of Fuzzy Logic Controller and its Distinctive Feature
Takeshi Yamakawa
Fuzzy Logic Systems Institute (FLSI)
1-5-204 Hibikino, Wakamatsu, Kitakyushu, Fukuoka 808-0135, Japan

Received:
April 9, 2018
Accepted:
April 11, 2018
Published:
September 20, 2018
Keywords:
fuzzy logic control, mouse stabilization, fuzzy chip, control strategy
Abstract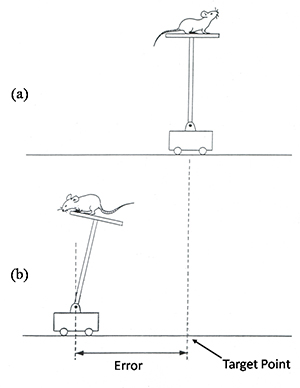 Prof. Lotfi A. Zadeh, who created a new approach to describe a knowledge of a human expert with a natural language, passed away on September 6, 2017. His significant accomplishment was to create a novel artificial intelligence (AI) which exhibits the knowledge of human experts in natural linguistic terms. This system is structured and clear in two points of why a result is obtained and how it is done. The system contrasts with AI systems based on neural networks or deep learning.
In this paper, the design of a fuzzy logic controller and its application to controlling of the mouse-platform stabilization are described. In addition, the distinctive features of fuzzy logic control are discussed. The author wants to offer this paper on the altar of Prof. Zadeh.
Cite this article as:
Takeshi Yamakawa, "Design of Fuzzy Logic Controller and its Distinctive Feature," J. Adv. Comput. Intell. Intell. Inform., Vol.22, No.5, pp. 740-746, 2018.
Data files:
References
[1] Int. Video Conf. between NASA Jonson Space Center (Texas, U.S.A.) and Kotobuki Kaikan (Iizuka city, Japan) through Intelsat in the Int. Workshop on Fuzzy System Applications (IIZUKA-88), August 20–24, 1988.
[2] Int. Video Conf. between NASA Jonson Space Center (Texas, U.S.A.) and Kyushu institute of Technology (Iizuka city, Japan) through Intelsat in the Int. Conf. on Fuzzy Logic and Neural Networks (IIZUKA-90), July 20–24, 1990.
[3] The 2nd Int. Conf. on Fuzzy Logic and Neural Networks (IIZUKA-92), July 17–22, 1992.
[4] T. Yamakawa, E. Uchino, and T. Samatsu, "Wavelet Neural Networks Employing Over-Complete Number of Compactly supported Non-Orthogonal Wavelets and Their Applications," Proc. of IEEE Int. Conf. on Neural Networks, pp. 1391-1396, June 28–July 2, 1994.
[5] T. Yamakawa, E. Uchino, and T. Samatsu, "The Wavelet Network Using Convex Wavelets and Its Application to Modeling of Dynamical Systems," The Trans. of the Institute of Electronics, Information and Communication Engineers A, Vol.J79-A, No.12, pp. 2046-2053, 1996.
[6] T. Yamakawa, "A Fuzzy Inference Engine in Nonlinear Analog Mode and Its Application to a Fuzzy Logic Control (Invited Paper)," IEEE Trans. on Neural Networks, Vol.4, No.3, pp. 496-521, 1993.
[7] C. B. Frey and M. A. Osborne, "THE FUTURE OF EMPLOYMENT: HOW SUSCEPTIBLE ARE JOBS TO COMPUTERISATION?," pp. 1-72, 2013, https://www.oxfordmartin.ox.ac.uk/downloads/academic/The_Future_of_Employment.pdf