Design Research of Wearable Soft Avatar Robot for Interactive Social Presence
Young ah Seong
Faculty of Engineering and Design, Hosei University
2-33 Ichigayatamachi, Shinjuku-ku, Tokyo 162-0843, Japan

Received:
October 19, 2021
Accepted:
November 30, 2021
Published:
April 20, 2022
Keywords:
soft robot, wearable, avatar robot, social presence
Abstract
With the increase in online interaction between distant people, wearable avatar robots are expected to be used in a wide range of daily situations. Soft robotics is highly applicable as a method to achieve this. In this study, we define the design requirements for the daily use of wearable soft avatar robots based on design surveys and cross-field academic research. In addition, we implement prototypes using an inflatable robot and summarize the future issues.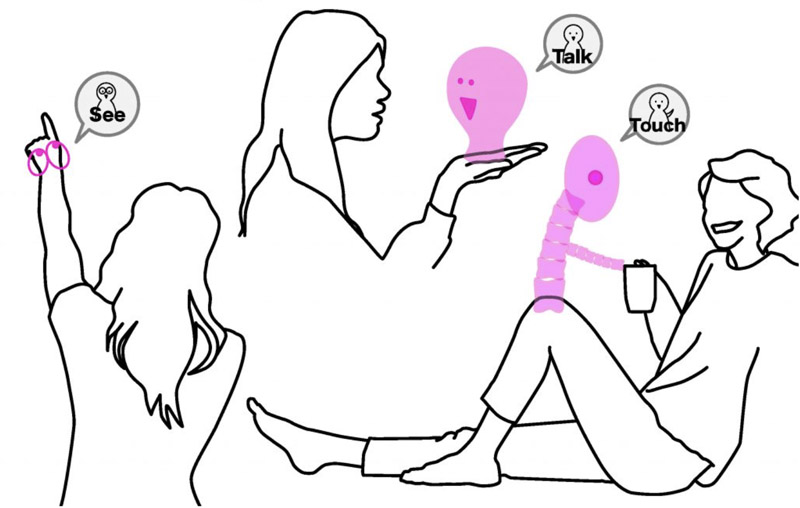 Cite this article as:
Y. Seong, "Design Research of Wearable Soft Avatar Robot for Interactive Social Presence," J. Robot. Mechatron., Vol.34 No.2, pp. 325-327, 2022.
Data files:
References
[1] T. Kashiwabara, H. Osawa, K. Shinozawa, and M. Imai, "TEROOS: a wearable avatar to enhance joint activities," Proc. of the SIGCHI Conf. on Human Factors in Computing Systems (CHI'12), pp. 2001-2004, 2012.
[2] M. Y. Saraiji, T. Sasaki, R. Matsumura, K. Minamizawa, and M. Inami, "Fusion: full body surrogacy for collaborative communication," Proc. of ACM SIGGRAPH 2018 Emerging Technologies (SIGGRAPH'18), Emerging Technologies, 7, 2018.
[3] A. Case, "Calm Technology: Designing for Billions of Devices and the Internet of Things," O'Reilly Media, Inc., 2015.
[4] R. Niiyama, H. Sato, K. Tsujimura, K. Narumi, Y. Seong, R. Yamamura, Y. Kakehi, and Y. Kawahara, "Poimo: Portable and Inflatable Mobility Devices Customizable for Personal Physical Characteristics," Proc. of the 33rd Annual ACM Symp. on User Interface Software and Technology (UIST'20), pp. 912-923, 2020.
[5] T. Hideyuki, B. Midori, O. Hirotaka, N. Junya, S. Hidenobu, and I. Hiroshi, "Huggable Communication Medium Maintains Level of Trust during Conversation Game," Front. Psychology, Vol.8, 1862, 2017.
[6] M. Shiomi, A. Nakata, M. Kanbara, and N. Hagita, "A Hug from a Robot Encourages Prosocial Behavior," Proc. of the 26th IEEE Int. Symp. on Robot and Human Interactive Communication (RO-MAN), pp. 418-423, 2017.
[7] R. Niiyama, Y. Seong, Y. Kawahara, and Y. Kuniyoshi, "Blower-Powered Soft Inflatable Joints for Physical Human-Robot Interaction," Front. Robot. AI, Vol.8, 720683, 2021.
This article is published under a Creative Commons Attribution-NoDerivatives 4.0 Internationa License.