Mobility Support System for Personal Mobility Vehicles
Taro Fujikawa*, Makiko Ishikawa**, and Shuro Nakajima***
*Department of Robotics and Mechatronics, School of Science and Technology for Future Life, Tokyo Denki University
5 Senju Asahi-cho, Adachi-ku, Tokyo 120-8551, Japan

**Department of Modern Mechanical Engineering, School of Creative Science and Engineering, Waseda University
27 Waseda-chyo, Shinjuku-ku, Tokyo 162-0042, Japan

***Faculty of Systems Engineering, Wakayama University
930 Sakaedani, Wakayama-city 640-8510, Japan

Received:
June 30, 2015
Accepted:
October 15, 2015
Published:
December 20, 2015
Keywords:
mobility support system, personal mobility vehicle, UW system, IR system
Abstract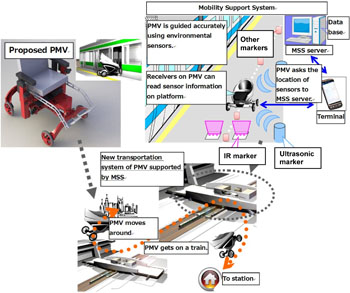 Transportation system of PMVs by MSS

The mobility support system (MSS) that we propose expands the field of activities of personal mobility vehicles (PMVs). The system consists of a server, an ultrasonic wave (UW) system that provides self-localization in facilities, and an infrared ray (IR) system that supports passing through narrow spaces in facilities such as station ticket wickets for PMVs. Results of experiments confirmed the feasibility of the system.
Cite this article as:
T. Fujikawa, M. Ishikawa, and S. Nakajima, "Mobility Support System for Personal Mobility Vehicles," J. Robot. Mechatron., Vol.27 No.6, pp. 715-716, 2015.
Data files:
References
[1] S. Nakajima and T. Fujikawa, "Proposal for Personal Mobility Vehicle Supported by Mobility Support System," Proc. of 2012 IEEE Int. Electric Vehicle Conf., 2012.
[2] T. Sato, N. Matsuhira, and E. Oyama, "Development of Common Platform Technology for Next-Generation Robots," Advances in Service Robotics, pp. 161-180, 2008.
[3] M. Ishikawa, T. Fujikawa, and S. Nakajima, "Indoor Driving Support System for Personal Mobility Vehicle Driving in the Public Facilities," 2013 RISP Int. Workshop on Nonlinear Circuits, Communications and Signal Processing, pp. 25-28, 2013.
[4] T. Fujikawa and S. Nakajima, "Proposal for An IR System to Support Automatic Control for A Personal Mobility Vehicle," Proc. of the 2012 IEEE Int. Conf. on Robotics and Biomimetics, pp. 2207-2212, 2012.
This article is published under a Creative Commons Attribution-NoDerivatives 4.0 Internationa License.