Development of a Series of RT-Mover, Which is a Four-Wheel Type of Mobile Platform with an Ability of Negotiating Obstacles
Shuro Nakajima
Wakayama University
930 Sakaedani, Wakayama-city 640-8510, Japan

Received:
May 31, 2015
Accepted:
July 27, 2015
Published:
October 20, 2015
Keywords:
mobile robot platform, vehicle for rough terrain, robotic wheelchair, personal mobility
Abstract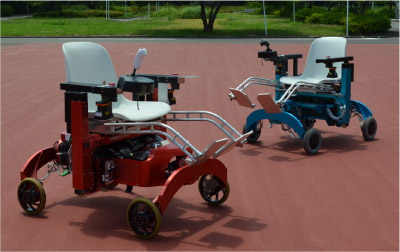 Personal mobility vehicles

We have developed the RT-Mover series of mobile robots because of the strong demand for mobile robot platforms for use on rough terrain. They look like ordinary four-wheel vehicles but are mobile enough to operate on targeted rough terrain encountered in daily life. The advantage of this series is that individual wheels negotiate obstacles with their own leg motion mechanisms.
Cite this article as:
S. Nakajima, "Development of a Series of RT-Mover, Which is a Four-Wheel Type of Mobile Platform with an Ability of Negotiating Obstacles," J. Robot. Mechatron., Vol.27 No.5, pp. 587-589, 2015.
Data files:
References
[1] S. Nakajima, "RT-Mover: a rough terrain mobile robot with a simple leg-wheel hybrid mechanism," The Int. J. of Robotics Research, Vol.30 Issue 13, pp. 1609-1626, 2011.
[2] S. Nakajima, "Proposal of a personal mobility vehicle capable of traversing rough terrain," Disability and Rehabilitation: Assistive Technology, Vol.9, No.3, pp. 248-259, 2014.
[3] S. Nakajima, "Improved Gait Algorithm and Mobility Performance of RT-Mover Type Personal Mobility Vehicle," IEEE Access, Vol.2, No.1, pp. 26-39, 2014.
This article is published under a Creative Commons Attribution-NoDerivatives 4.0 Internationa License.