Visual Measurement for On-Orbit Reflector Assembly
Shin-ichiro Nishida* and Heihachiro Kamimura**
*Tottori University
4-101 Koyamacho-Minami, Tottori 680-8552, Japan

**1-6-9 Inokashira, Mitaka 181-0001, Japan

Received:
April 2, 2015
Accepted:
July 14, 2015
Published:
October 20, 2015
Keywords:
aerospace, visual servo, control, robot arm
Abstract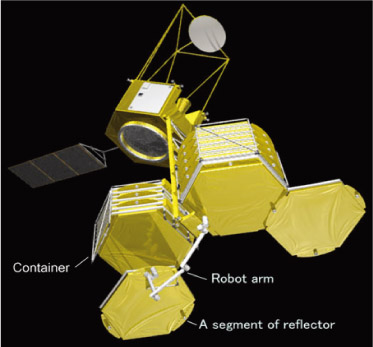 Artist concept of in-orbit assembly
In Earth orbit, a space telescope is free from any absorption or disturbances from the Earth's atmosphere. Therefore, a large space telescope is planned for the future. We discuss the assembly of a large telescope reflector performed by a robot arm. For the assembly work, positioning of the arm using visual servo control to colored markers is proposed. A ground test-bed is used to test the characteristics of the new image processing method for colored markers. The results of the tests are also given.
Cite this article as:
Shin-ichiro Nishida and Heihachiro Kamimura, "Visual Measurement for On-Orbit Reflector Assembly," J. Robot. Mechatron., Vol.27, No.5, pp. 480-488, 2015.
Data files:
References
[1] S. Nishida and R. Okamura, "Onboard Assembling of Large Space Reflector by Space Robot," Space Factory on ISS Workshop, 1999.
[2] S. Nishida, H. Ueno, et al., "Structure for on-orbit assembly by space robot," The 45th space-science symposium, 2001.
[3] M. Oda, S. Nishida, et al., "Components and Control System of ETS-VII Robot Experiment Subsystem," ICAR99, 1999.
[4] M. Oda, S. Nishida, et al., "Onboard Local Compensation on ETS-VII Space Robot Teleoperation," AIM'99, Atlanta, 1999.
[5] S. Kimura and S. Tsuchiya, "Antenna-assembly experiments using ETS-VII," Proc. Of i-SAIRAS'99 (ESA-SP-440), pp. 307-313, Quebec, 1999.
[6] K. Matsumoto, S. Wakabayashi, et al., "Teleoperation Control of ETS-7 Robot Arm for on-Orbit Truss Construction," Proc. of i-SAIRAS'99, pp. 313-318, Quebec, 1999.
[7] N. Sato and Y. Wakabayashi, "JEMRMS Design Features and Topics from Testing," i-SAIRAS-2001, AS007, 2001.
[8] H. Kamimura, S. Nishida, and S. Kawamoto, "Recognition and Attitude Estimation of a Colored Object Ejected from m-LabSat," IAC2003, 2003.
[9] Y. Fukuda, K. Machida, S. Nishida, et al., "Assembly Experiment of Microsatellite by Space Maintenance Robot," i-SAIRAS 2001, Quebec, 2001.
[10] Y. Watanabe, T. Komuro, S. Kagami, and M. Ishikawa, "Multi-Target Tracking Using a Vision Chip and its Applications to Real-Time Visual Measurement," J. of Robotics and Mechatronics, Vol.17, No.2, pp. 121-129, 2005.
[11] S. Nishida and T. Yoshikawa, "Onboard Assembling of Large Space Structure by Torque Controlled Space Robot," SPIE S&S, San-Diego, 2003.
[12] S. Nishida and T. Yoshikawa, "Reflector Assembling in orbit by a Joint Torque Controlled Space Robot," ISR2004, Paris, 2004.
[13] S. Nishida, H. Kamimura, et al., "A Plan for Lunar Outpost Construction by using Robots," Space2011, Long-Beach, 2011.
This article is published under a Creative Commons Attribution-NoDerivatives 4.0 International License.