Link Type Arm Support Equipment
Kazuto Miyawaki
Department of Mechanical Engineering, National Institute of Technology, Akita College
1-1 Iijima-Bunkyo-cho, Akita 011-8511, Japan

Received:
September 11, 2014
Accepted:
December 19, 2014
Published:
February 20, 2015
Keywords:
rehabilitation, disabled, human dynamics, biomechanics
Abstract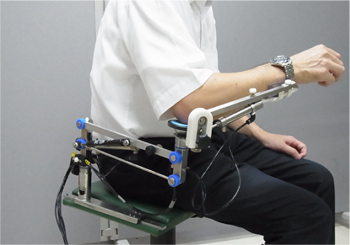 Link type arm support equipment

In anticipation of the aging of society, support equipment is taking an important role in promoting the independence of elderly and disabled citizens, and welfare and other assist devices have been developed to enhance their quality of life (QOL). This development has proceeded based on trial and error, however, dependent on the experiences and attitudes of designer engineers rather than on users. This is because of a lack of information, e.g., on the requirements of the elderly and indices for better evaluating their physical needs. Few such devices currently incorporate operational mechanisms suitable to the physical functions of the elderly and disabled or that consider using their remaining capabilities. An important element in developing support equipment is the concept of power assist – letting users exploit their remaining capabilities while using mechanical means to supplement abilities they may lack. The effects of different kinds of support also are not precisely known. To clarify this, the author developed a link arm to support lacking functions based on data on the movements of unimpaired persons.
Cite this article as:
K. Miyawaki, "Link Type Arm Support Equipment," J. Robot. Mechatron., Vol.27 No.1, pp. 110-111, 2015.
Data files:
References
[1] K. Miyawaki, T. Sato, T. Iwami, T. Matsunaga, Y. Shimada, and G. Obinata, "Evaluation of utility of the "Arm-Balancer" arm support system," IEEE Int. Symposium, MHS2010, pp. 208-213, 2010.
[2] K. Miyawaki, K. Konishi, S. Kizawa, T. Iwami, and G. Obinata, "Measurement of the arm movement using arm support system with three-dimensional acceleration sensor," IEEE Int. Symposium, MHS2013, pp. 9-14, 2013.
This article is published under a Creative Commons Attribution-NoDerivatives 4.0 Internationa License.