USA² — Ubiquitous and Robot Assisted Cloud Manufacturing in an Ageing Society
Thomas Linner, Jörg Güttler, Christos Georgoulas, and Thomas Bock
Chair of Building Realization and Robotics, Technische Universität München, Germany

Received:
July 1, 2014
Accepted:
October 10, 2014
Published:
February 20, 2015
Keywords:
robot assisted working, cloud manufacturing, seamless interaction, mini factories, ageing society
Abstract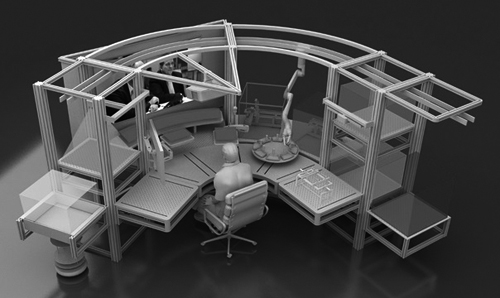 Micro home factory in future

In the project USA² (Ubiquitäres und Selbstständiges Arbeiten in einer alternden Gesellschaft), a robotic, mini-factory-like workspace was developed which integrates novel technologies from the field of telepresence, cooperative robotics, seamless interaction, 3D printing and cloud manufacturing.
Cite this article as:
T. Linner, J. Güttler, C. Georgoulas, and T. Bock, "USA² — Ubiquitous and Robot Assisted Cloud Manufacturing in an Ageing Society," J. Robot. Mechatron., Vol.27 No.1, p. 109, 2015.
Data files:
References
[1] A. Börsch-Supan and F. Mariuzzo, "Our Sample: 50+ in Europe," Survey of Health, Ageing and Retirement in Europe, Vol.2, 2005.
[2] H. Lipson and M. Kurman, "Fabricated: The New World of 3D Printing," New Jersey: John Wiley&Son, 2013.
This article is published under a Creative Commons Attribution-NoDerivatives 4.0 Internationa License.