single-award.php
JACIII Best Paper, Young Researcher, and Best Review Paper Awards 2019
JACIII BEST PAPER AWARD 2019

Analyzing Potential of Personal Values-Based User Modeling for Long Tail Item Recommendation

Yasufumi Takama, Yu-Sheng Chen, Ryori Misawa, and Hiroshi Ishikawa
Vol.22 no.4 p.506-513 2018
Yasufumi Takama


Graduate School of System Design, Tokyo Metropolitan University

Yu-Sheng Chen


Graduate School of System Design, Tokyo Metropolitan University

Ryori Misawa


Graduate School of System Design, Tokyo Metropolitan University

Hiroshi Ishikawa


Graduate School of System Design, Tokyo Metropolitan University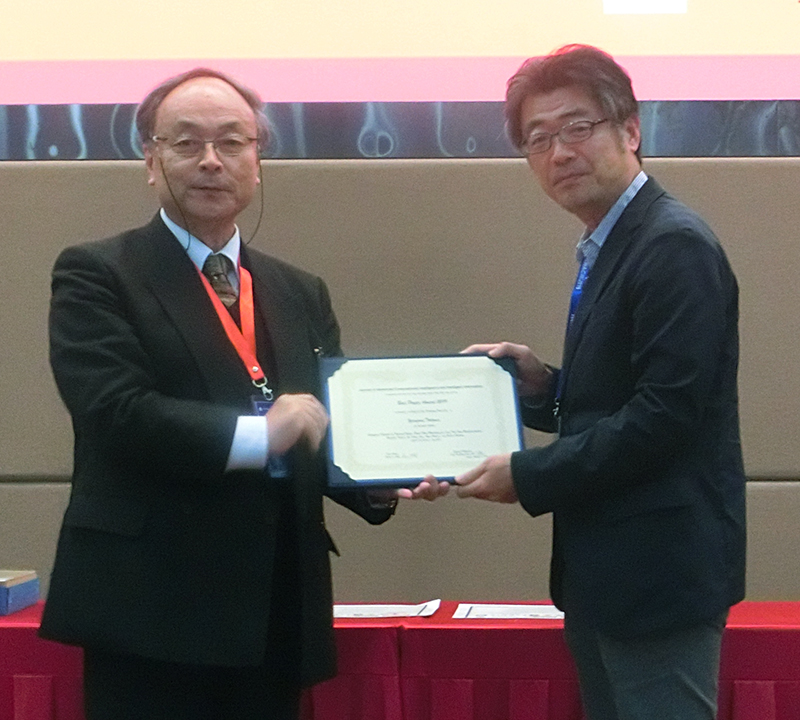 Message from the Winner
We are very honored to receive the JACIII's Best Paper Award 2019. We would like to thank the award committee for this great honor. We have proposed a user modeling method based on personal values. The method is called Rating Matching Rate (RMRate), which was reported in our previous publication on the JACIII. Using RMRate, personal values are modeled as the effect of an item's attributes on a user's rating. Assuming that the personal values strongly affect our evaluation of unpopular items, this paper examines its effectiveness for long tail item recommendation. The proposed long tail item recommendation consists of RMRate, user-based collaborative filtering, and a strategy for selecting long tail items. The experimental results show incorporating personal values enables the recommendation of long tail items while maintaining recommendation accuracy. As introducing personal values into recommender systems is a relatively new idea, we decided to submit our papers related to RMRate to the JACIII, which encourages the submission of reports on pioneering studies. We would like to submit our papers to the JACIII to report on subsequent studies in the future.
---
JACIII YOUNG RESEARCHER AWARD 2019

Characteristics of Rough Set C-Means Clustering

Seiki Ubukata, Keisuke Umado, Akira Notsu, and Katsuhiro Honda
Vol.22 no.4 p.551-564 2018
Seiki Ubukata


Osaka Prefecture University

Keisuke Umado


Osaka Prefecture University

Akira Notsu


Osaka Prefecture University

Katsuhiro Honda


Osaka Prefecture University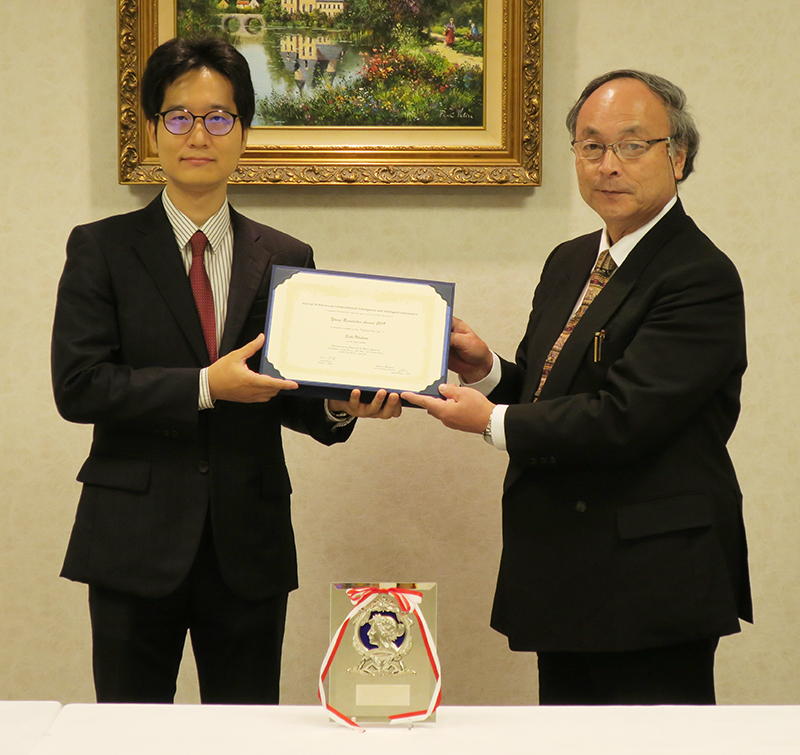 Message from the Winner
I am very honored to receive this prestigious award, the "JACIII Young Researcher Award 2019." I am deeply grateful to the JACIII editorial board/office, reviewers, co-authors, and all supporters of this paper, "Characteristics of Rough Set C-Means Clustering." This award is highly encouraging to my further study. My research interests include cluster analysis (clustering) and soft computing, especially rough set theory. This paper introduces the perspective of rough set theory to hard C-means (HCM; k-means) clustering to deal with uncertainty. The proposed method, rough set C-means (RSCM), is a clustering model based on the object space granulated by a binary relation. RSCM uses the rough set to approximate each temporal cluster and considers whether it is positive, possible, or uncertain that an object belongs to each cluster. While fuzzy clustering has been well studied and widely used, rough set-based clustering has not been well studied, leaving room for further investigation. Since cluster structures in the real-world dataset are not always clear, the handling of uncertainty based on rough sets is a very important and interesting subject. I hope that this study will contribute to the development of both clustering and rough set theory, and that rough set-based clustering will be promoted and widely used in the future. I also wish for the development of JACIII and the field of computational intelligence and intelligent informatics. Thank you.
---
JACIII BEST REVIEW PAPER AWARD 2019

A Survey of Video-Based Crowd Anomaly Detection in Dense Scenes

Junjie Ma, Yaping Dai, and Kaoru Hirota
Vol.21 no.2 p.235-246 2017
Junjie Ma


School of Automation, Beijing Institute of Technology

Yaping Dai


School of Automation, Beijing Institute of Technology

Kaoru Hirota


School of Automation, Beijing Institute of Technology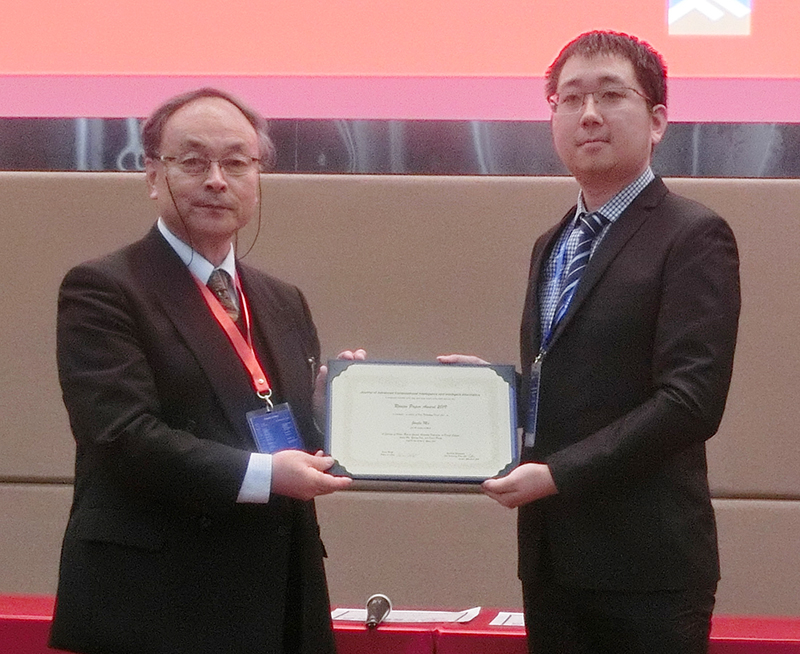 Message from the Winner
I would like to thank the award committee of the JACIII of Fuji Technology Press for granting me this award. It is a great honor and an affirmation of my current academic level.
I am now a Ph.D. candidate at the Beijing Institute of Technology, China. When my supervisor, Professor Yaping Dai, notified me by email that my paper had been selected to win the JACIII Best Review Paper Award, I was amazed and excited. As this is my first time to win a best paper award issued by a famous international journal, I would also like to share my happiness with my labmates, friends, and family members.
This paper was written with the help of Professors Yaping Dai and Kaoru Hirota. I would like to thank them for enhancing the quality of the paper, modifying the English in it, and providing meaningful academic advice in general. The main purpose of this paper was to survey recent prominent works on crowd counting and anomaly detection based on the analysis of pedestrians. These two tasks are significant research areas that have been gathering attention in the fields of intelligent surveillance systems and public security. In fact, by the end of 2019, top computer vision conferences such as CVPR and ICCV will have published more than 20 papers on crowd counting alone. I hope that this paper can provide some meaningful basic knowledge to those who are interested and would like to learn more about crowd counting and anomaly detection.
I continue to do research on the task of crowd counting and have already finished some additional works. I would very much appreciate the opportunity to discuss related issues with experts in this field and to collaborate, if possible.
---