Dynamic Analysis of sRNA Regulated Quorum Sensing Network
Qicheng Mei*,**, Feng Liu*,**,†, Jinhua She*,**, and Fenglan Sun***
*School of Automation, China University of Geosciences
No.388 Lumo Road, Hongshan District, Wuhan 430074, China

**Hubei key Laboratory of Advanced Control and Intelligent Automation for Complex Systems
No.388 Lumo Road, Hongshan District, Wuhan 430074, China

***Key Lab of Intelligent Analysis and Decision on Complex Systems, Chongqing University of Posts and Telecommunications
No.2 Chongwen Road, Nanan District, Chongqing 400065, China

†Corresponding author
Received:
January 19, 2018
Accepted:
January 4, 2019
Published:
July 20, 2019
Keywords:
quorum sensing network, control, stability, Hopf bifurcation
Abstract
The dynamics of an sRNA-regulated quorum sensing network model were investigated. The stability and the existence conditions for Hopf bifurcation were obtained. A linear feedback controller was proposed to stabilize the Hopf bifurcation of the system. Numerical simulations verified the theoretical analysis results.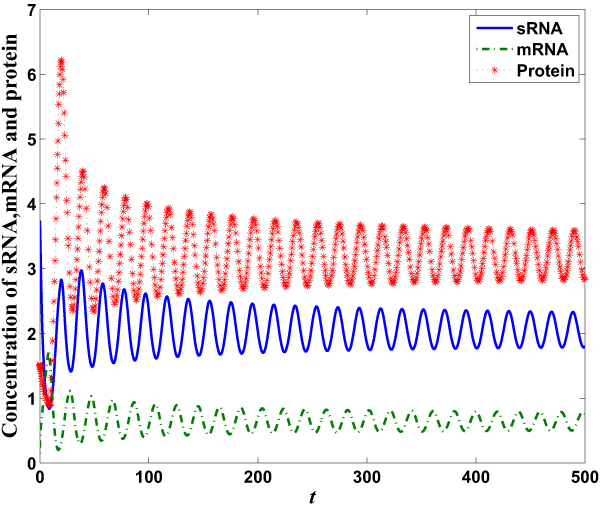 Cite this article as:
Q. Mei, F. Liu, J. She, and F. Sun, "Dynamic Analysis of sRNA Regulated Quorum Sensing Network," J. Adv. Comput. Intell. Intell. Inform., Vol.23 No.4, pp. 619-624, 2019.
Data files:
References
[1] C. M. Waters and B. L. Bassler, "Quorum sensing: cell-to-cell communication in bacteria," Annual Review of Cell and Developmental Biology, Vol.21, No.6, pp. 319-346, 2005.
[2] M. B. Miller and B. L. Bassler, "Quorum sensing in bacteria," Annual Review of Microbiology, Vol.55, pp. 165-199, 2001.
[3] K. C. Tu, C. M. Waters et al., "A small-RNA-mediated negative feedback loop controls quorum-sensing dynamics in Vibrio harveyi," Molecular Microbiology, Vol.70, No.4, pp. 896-907, 2008.
[4] J.-W. Shen, "Dynamics and mechanism of a quorum sensing network regulated by small RNAs in Vibrio harveyi," Communications in Theoretical Physics, Vol.55, No.3, pp. 465-472 2011.
[5] O. Hobert, "Gene regulation by transcription factors and MicroRNAs," Science, Vol.319, No.5871, pp. 1785-1786, 2008.
[6] A. Mund, C. Kuttler, J. Pérez-Velázquez et al., "An age-dependent model to analyse the evolutionary stability of bacterial quorum sensing," J. of Theoretical Biology, Vol.405, pp. 104-115, 2016.
[7] N. Sedlyarova, I. Shamovsky et al., "sRNA-Mediated Control of Transcription Termination in E. coli," Cell, Vol.167, No.1, pp. 111-121, 2016.
[8] J. W. Williams, X. Cui, A. Levchenko et al., "Robust and sensitive control of a quorum-sensing circuit by two interlocked feedback loops," Molecular Systems Biology, Vol.4, No.1, p. 234, 2008.
[9] K. Y. Yang, L. L. Zhang, and J. Zhang, "Stability analysis of a three dimensional energy demand-supply system under delayed feedback control," Kybernetika, Vol.51, No.6, pp. 1084-1100, 2015.
[10] A. M. Wannamaker, "Quorum sensing in Vibrios and cross-species activation of bioluminescence lux genes by Vibrio harveyi LuxR in an arabinose-inducible Escherichia coli expression system," Theses & Dissertations, 2013.
[11] A. Biaglow, K. Erickson, and S. McMurran, "Enzyme Kinetics and the Michaelis-Menten Equation," Primus, Vol.20, No.2, pp. 148-168, 2010.
[12] B. D. Hassard, N. D. Kazarinoff, and Y.-H. Wan, "Theory and Application of Hopf Bifurcation," Cambridge University Press, 1981.
This article is published under a Creative Commons Attribution-NoDerivatives 4.0 Internationa License.